This '90s Hair Accessory Is Making a Major Comeback—Here's How to Wear the Trend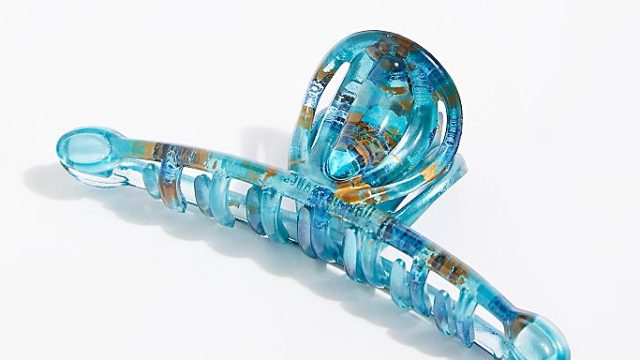 We've adopted the bike shorts, welcomed back the bucket hats, and accepted mom jeans as a wardrobe staple. Now, it's time to bring back yet another classic '90s trend: the claw clip. Just as there was pushback about bringing the scrunchies back from the '80s and the French manicures from the early '00s, not everyone will be on board with this '90s hair trend revival, but just hear us out. If you've ever tried to recreate Rachel Green's entire wardrobe from Friends—honestly, who hasn't?—then you can't leave out this all-important hair accessory. Re-watch Season 1 and you'll see that the waitress-turned-professional-shopper is wearing a claw clip in her hair almost all the time.
Whether you're a Friends fan or not, there's a lot to love about the claw clip. For one thing, it's perfect for summer. Clips are an easy way to keep your hair off your neck in the heat, and they won't leave behind any annoying creases as some hair ties do. Not to mention, they make a subtle fashion statement on their own. Celebs like Bella Hadid, Kendall Jenner, Hailey Bieber, and Kaia Gerber have all been spotted sporting claw clips in their hair, and if you need even more convincing that the second coming of the claw clip is happening, the hair accessory is also runway-approved. Don't worry, though; you don't need expert hairstylists to recreate this minimal-effort look. All it takes is a little twist and a clip.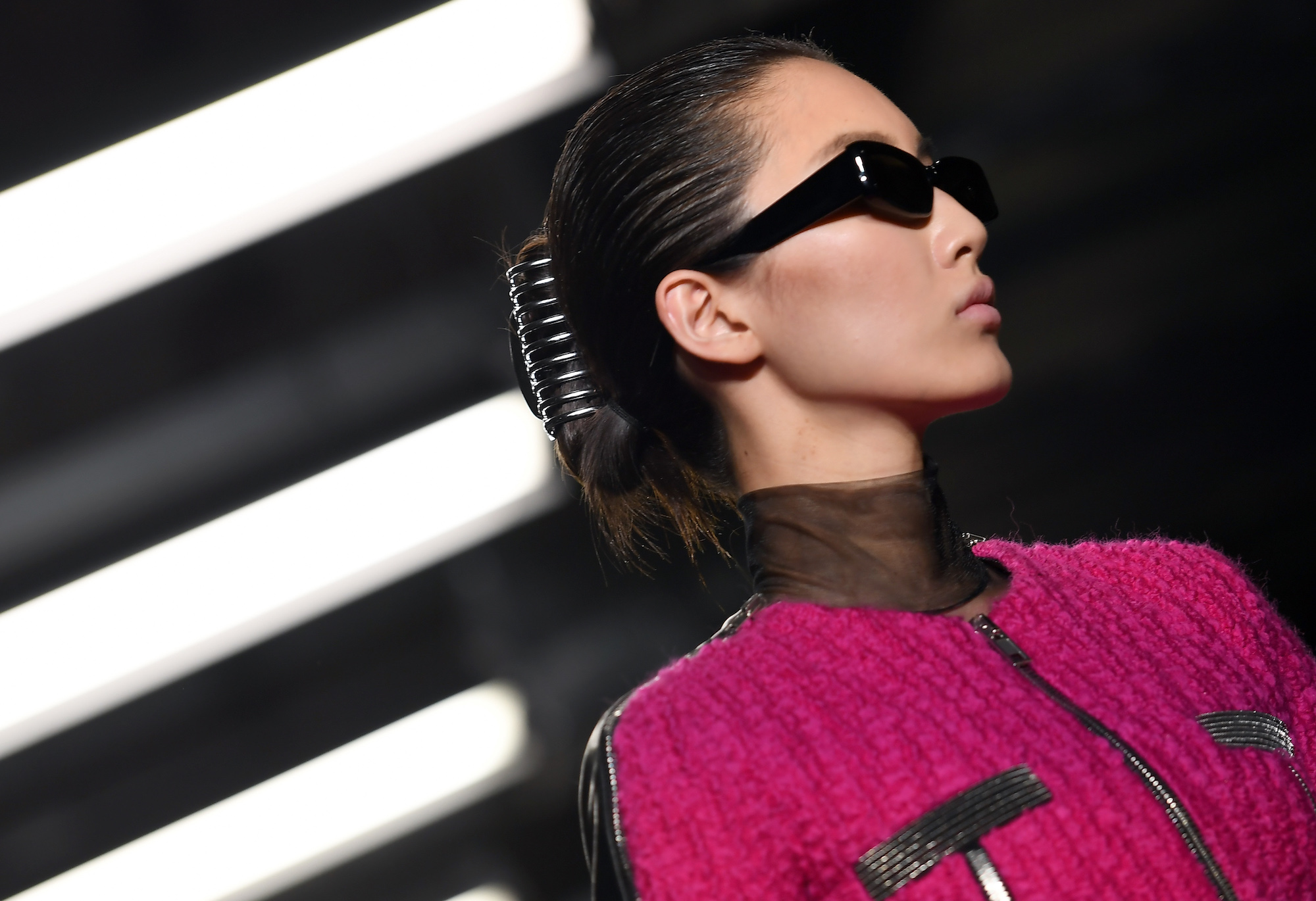 Below, learn different ways to style your hair using a claw clip and shop the accessory in various trendy designs. Plus, we round up some of the cutest claw clips to help you achieve the look.
Three ways to use a claw clip:
1. The twisted updo
Cool enough for fashion week and easy enough to recreate at home, this look will quickly become your go-to summer hairstyle. This style works best for long hair, but you can make it work with whatever length you have. To create this look, gather your hair at the back of your neck and start twisting your hair up like you would for a French twist. Then, fold the excess hair back down over the rest of the twist and use the clip to hold it all in place.
2. The messy bun
Styling the perfect messy bun often requires far more effort than it should—but this claw-clip version is a great hack. All you need to do is repeat the steps for the updo above; when you're ready, fold over the excess hair and twist the hair into a circle like you would to create a bun. Then, fasten the clip at the base of the twist so that the "bun" sticks out from the top. After that, pull on some strands to loosen them and mess up the look. This hairstyle has a great one-two punch: From the front, it will look like you're rocking a classic messy bun, but from the back, there's an extra element of style.
2. The waterfall
Supermodel besties Hadid and Jenner both love this hairstyle (especially when paired with low-rise jeans and the sexy cardigan trend). To get their messy-chic look, repeat the initial steps of the looks above, but instead of clipping down the excess hair, leave it flowing and flopping out of the top of the clip. Before creating the updo, you can either slick back your hair in front for Hadid's sleek look or pull out two face-framing pieces for Jenner's more casual take on the trend. This look is super easy for shorter, medium-length hair since it only involves twisting up once and clipping. And for those with longer hair, this look turns into a fun alternative to the everyday ponytail.
3. The half-up/half-down look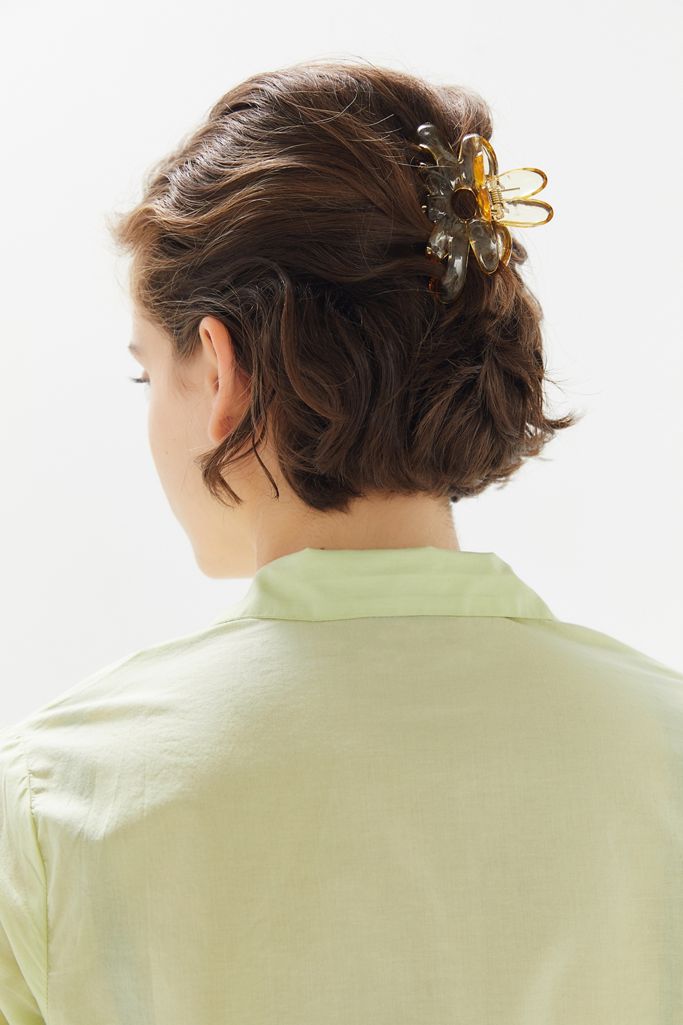 This look is the easiest of them all. Simply replace your hair tie with a clip in this time-tested half-up/half-down hairstyle, and you're good to go. Wear the clip lower on the back of your head for a more toned-down elegant style, or push the clip up higher to create more volume and a playful look. Depending on your amount of hair and the style you're going for, this look can easily be created with a smaller-sized claw clip or one of the jumbo versions for added drama.
Shop the 10 best claw clips below:
[listicle id="4304205″ entity_variant="default" /]