15 classic cocktails everyone should know how to make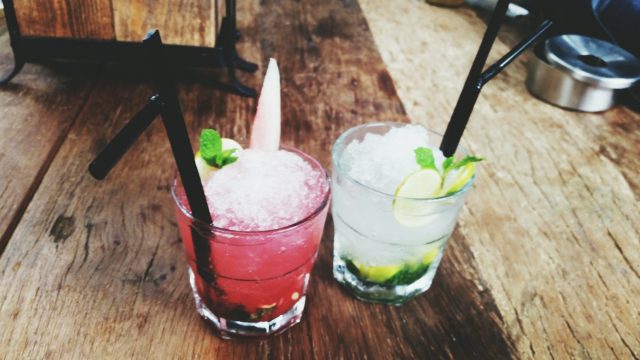 No matter what age we start drinking, we all start out as novices, looking at a bartender with a blank stare or pointing to our friend's drink and asking for "one of those." Likewise, our bartending skills begin just as basically. Although it doesn't take a rocket scientist to mix vodka and orange juice together in our dorm room and declare it a screwdriver, it also doesn't exactly make someone a mixologist. Just like a wine fan might start out drinking a super-sweet Moscato before moving onto drier wines, so must a cocktail connoisseur evolve from mixing vodka and cranberry together to crafting more sophisticated alcohol concoctions. If you want to impress your friends with your bartending skills, or simply expand your drinking palate to more interesting fare, these classic cocktail recipes are essential to learn.
1Margarita
There are two types of margaritas you can make. One is the "happy hour at the tacqueria" type, where you make big batches in a blender with ice. The other requires a strainer and the patience to make one at a time. Either way, if you really want to make good margaritas, you should avoid those neon yellow or pink pre-made mixes they sell at grocery stores, and instead make your margaritas from scratch. Most recipes call for a mixture of tequila, triple sec, and lime juice, but if you want to take your margs to the next level, be sure to flavor them with fresh fruit. The more exotic, the better. Everyone's probably had a strawberry margarita, but have you had a guava or prickly pear one?
2Martini
You can thanks James Bond for making martinis posh; he takes his "shaken, not stirred," but you can make them in many different ways – neat, dirty, straight up, on the rocks, "with a twist," etc. Some people prefer gin martinis, while others like vodka; the only constant is the vermouth. However, once you learn the lingo and figure out your style, a martini is basically a Rorschach test in a glass. How you make one can reveal so much about you.
3French 75
Although it sounds like the name of a posh bar in Paris, the French 75 derives its name from the French 75-mm field gun that was used during World War I because of the "kick" it has when you drink it. Basically a Tom Collins with champagne, the ingredients are gin, sparkling wine, lemon juice and sugar. It can be deceptively boozy, so be careful that this drink doesn't backfire on you or your guests!
4Old Fashioned
If you haven't muddled a cocktail before, making an old fashioned provides the perfect opportunity. Invented in Kentucky, the recipe calls for wetting down several sugar cubes with bitters and club soda, and then "muddling" them (i.e. pressing the ingredients onto the side of the glass) with a muddler, spoon, or other kind of tool. Then, you add a large ice cube and pour in the rye whiskey for a drink that your grandparents would be familiar with. It may take a bit more effort to make an old fashioned than other kinds of cocktails, but drinking one can make you feel like Jon Hamm or January Jones in Mad Men, so it's well worth it.
5Manhattan
For those who love a super-boozy beverage, a Manhattan is for you. Named after one of our favorite places, a Manhattan is a whiskey-based drink with some vermouth and bitters thrown in that can leave you passed out and unintentionally riding a train all the way to Queens, if you're not careful. You can vary the whiskey type to your liking and use brandy or rye. But the art in making one is all in the shaking, so pretend you're Taylor Swift, and give it your best shake.
6Tom Collins
The musical theater lovers in us will always associate a "Tom Collins" with the character in Rent, but the name is best known as being the moniker of the classic cocktail that's made with gin, lemon juice, carbonated water, and simple syrup. For best results, shake your ingredients together while singing along to "Seasons of Love."
7Bloody Mary
Only the mimosa, which is mere sparkling wine topped with a little orange juice., can rival the Bloody Mary as the preferred brunch cocktail of choice. Take vodka and tomato juice and a mixture of spices that include pepper and Worcestershire Sauce and stir gently in a glass with ice. Garnish with celery and lemon, if you'd like, and you have the perfect accompaniment to your avocado toast or eggs Benedict.
8Sidecar
A sidecar isn't just a mode of transportation for clowns, it's also a delish adult beverage, typically made with cognac, orange liqueur, and lemon juice. It takes some practice and a good recipe to make one that is neither too sweet or too tart, but, once perfected, it's worth giving up the wheel for, even if you're not in the circus.
9Moscow Mule
By itself, a Moscow Mule – a cocktail made with vodka, ginger beer, and lime juice that didn't actually originate in Russia but a Russian neighborhood in NYC – is a pretty decent drink. However, pour it into the classic copper mug, and, suddenly, its cool factor goes up a million notches. Impress your friends by telling them that you "expressed" the mint garnish. (It just means you slapped it in order to let the aroma escape, but your friends will be too dumb-founded by your bartending expertise to ask.)
10Mojito
Besides being a really fun word to say, a mojito is the perfect drink to make on an unseasonably warm day. The kind of day when your air-conditioning has gone out and you feel like you're living in Castro-era Cuba. Luckily, there's nothing more cooling than a mixture of rum, lime, mint, soda water, and sugar to take your body temperature down a few degrees.
11Negroni
In addition to inventing the Best Food in the World, aka pizza, the Italians also invented a delightful cocktail called the negroni. Made with one part gin, one part sweet vermouth, and one part Campari, the most difficult part in assembling this drink is rounding up the ingredient list. (Don't forget to top it all off with a part of an orange peel!)
12Whiskey Sour
A "sour" anything sounds terrible, especially when combined with alcohol that's as strong and as specific-tasting as whiskey. However, don't let the name fool you! This cocktail, made with whiskey (of course), lemon juice, sugar, and a dash of egg white, is subtle with its sour flavor and refreshing enough to make and drink all year long, especially when topped with a Maraschino cherry!
13Cosmopolitan
If you've ever caught an episode of Sex and the City on TBS (and, seriously, who hasn't?), you'll notice the ladies on that show are constantly drinking cosmopolitans, as they were the cocktail of choice during the '90s. A cosmo can also double as an upper body workout, as it requires vodka, triple sec, cranberry and lime juices and a lot of shaking it all together before straining over ice.
14Mint Julep
You don't need a box seat at the Kentucky Derby to enjoy a well-made mint julep (but we wouldn't turn tickets down if someone offered). Bust out a bottle of bourbon, simple syrup, water, crushed ice, and mint and get ready to start muddling! Bonus points for serving these drinks to your guests with a southern, Gone With the Wind-style flair.
15Daiquiri
To love a daiquiri is to love sitting by the pool or beach during a vacation and having a waiter bring you copious amounts of liquor. It is typically made with rum and simple syrup plus a variety of other ingredients of your choosing. You can go the fruit route (like the blueberry daiquiri in the photo above) or opt for super-sweet with a chocolate daiquiri. Basically, it's the smoothie of the cocktail world. Any version you make is bound to be delicious!