Claire Foy says she "had no idea" that "The Crown" was so popular in the U.S.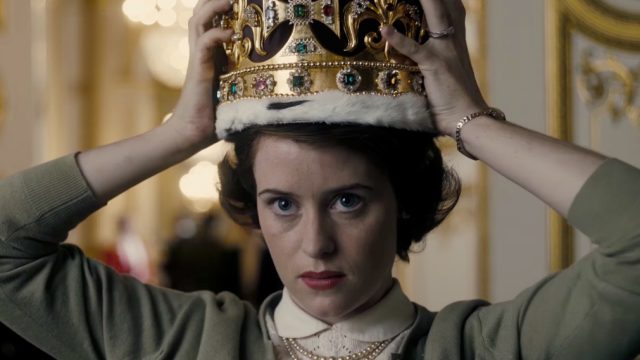 Lots of young actresses dream of wealth and fame. But that was never the end goal for Claire Foy, the British actress whose rise to fame recently skyrocketed after winning a Golden Globe award for her portrayal of Queen Elizabeth II in the Netflix series The Crown. It's so popular, even the real Queen watches the show IRL!
Foy has been acting for ten years, mainly in BBC biopics such as Little Dorrit, Upstairs Downstairs, and Wolf Hall. Prestigious, yes, but far from mainstream. But all that changed when she stepped into the Queen's shoes for The Crown.
We all know that Foy's performance was brilliant. But the actress says the fact that people watched the series in the States shocked her.
"We knew it got good reviews and people were watching it," Foy told NYLON. "We knew people in the industry were watching it because we got some lovely emails from colleagues and peers and stuff. But I had no concept of the fact that anyone watched it in America or anything, because it's thousands of miles away."
It wasn't until doing press and hearing her name was announced at the Golden Globes that Foy realized just how many people were watching — and loving — the show.
"When I won, it was a very surreal and slightly disconcerting moment," she continued. "The thing that I really remember is, I accepted it, walked off the stage, and just kept saying, 'Oh my god, oh my god, OHMYGOD' really loudly. And then we won drama series and I was like, 'What the fuck is going on?'"
Despite Foy's surprise, it's not shocking to us that she won — her performance was stellar.
Luckily, we'll get to see her work her magic in a bunch of upcoming projects. She stars alongside Andrew Garfield in the new film Breathe, which just hit theaters yesterday.
But that's not all.
She'll also play Lisbeth Salander in the forthcoming film The Girl in the Spider's Web. AND, Damien Chazelle cast her alongside Ryan Gosling in the Neil Armstrong biopic, First Man. Phew!
And of course, we can't wait to see her reprise the role of Queen Elizabeth II! Season 2 of The Crown hits Netflix in December.