Claire Foy of "The Crown" reveals what she thinks about the real queen watching her show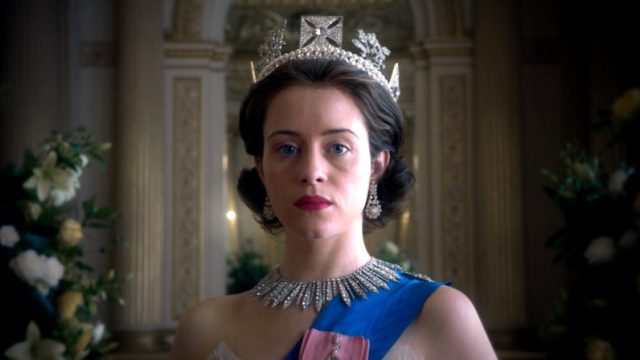 Portraying a fictional character is hard enough, but imagine interpreting the life of a real person…who's still living and can watch. That's exactly what Claire Foy does in The Crown, in which she plays real-life Queen Elizabeth II.And if you're wondering how she feels about the thought of Queen Elizabeth watching The Crown…she's not terribly enthused.
And we're not surprised! The queen is one of the most famous and influential women living today, so the job of accurately embodying her is a pretty tall order. Foy's concerns are totally understandable.
"I would hate the idea of her watching it, Foy shared with Town & Country. "When you're playing a real person, you never want to be ghoulish. I don't want to pick apart a person. I want to invent someone. So I would hate for her to watch it and think I overdramatized anything."
And even though it's entirely possible that the queen has seen an episode or two, Foy says she has firmly decided that she hasn't, and that her opinion won't be changing until she receives a call from the royal family. Fair enough!
Another queen saw the show, however. None other than Helen Mirren, who portrayed Queen Elizabeth in The Queen. Apparently she even wrote Foy a complimentary email about it (#GOALS).
Now that Foy's role as the queen has come to an end (an older actress will take over for the next season), she's been busy with a feature film project directed by the actor Andy Serkis. It's a love story called Breathe, and she stars alongside Andrew Garfield and Diana Rigg. Can't wait.
https://www.youtube.com/watch?v=6y0t2n_8iTc?feature=oembed
Then there's the Steven Soderbergh project, titled Unsane, followed by Damien Chazelle's highly anticipated First Man, about Neil Armstrong's mission into space.
So there's lots of Claire Foy to look forward to.
In the meantime, Queen Elizabeth, if you're listening…we highly recommend The Crown for your next binge-watching sesh.