Why wasn't Claire Foy able to accept her 2018 SAG Award?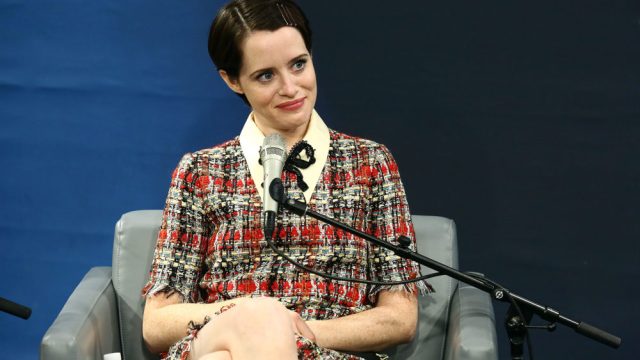 The 2018 SAG Awards were a big night for Netflix's hit series The Crown, which snagged two nominations for its triumphant second season. And it was an even bigger night for Claire Foy, who won the SAG Award for Outstanding Female Actor in a Drama Series for her portrayal of Queen Elizabeth II, edging out some seriously stiff competition to take home the trophy. But Foy wasn't on hand to accept her award, and we've got the scoop on where she was last night.
This is the second time in a row Foy won the award for her role in The Crown, taking home the top honors at last year's SAG Awards too. And though some of her castmates, including costar Matt Smith, who plays Prince Philip, were there to celebrate the show's success this year, Foy was MIA. So fans naturally wondered where she was, and it seems the show's frontrunner was in Berlin, Germany, filming her next blockbuster film role.
Foy is starring as Lisbeth Salander in the forthcoming film adaptation of The Girl in the Spider's Web, stepping into the role previously played by both Rooney Mara and Noomi Rapace. The film is currently in production, which explains Foy's absence at last night's SAG Awards.
https://www.instagram.com/p/BeQReGcl6_d
Smith explained to Access Hollywood why Foy wasn't able to attend ahead of her big win, saying, "She's being very successful filming, and she's in Berlin, where it's impossibly cold, and she's really sorry not to be here," noting that he texted her to wish her luck (aww!) adding, "Fingers crossed!"
Though The Crown lost to This Is Us for Outstanding Performance by an Ensemble in a Drama Series, we know the entire cast must be so proud of Foy for her second big win. Congratulations, our queen!