Claire Danes revealed what it was like trying to keep her pregnancy a secret on the set of Homeland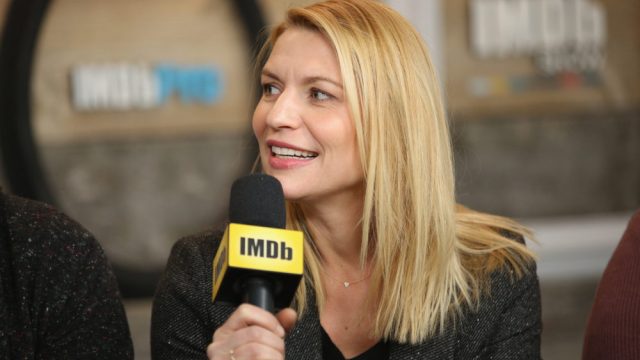 Just yesterday, April 18th, Homeland fans sent all their congratulations to the show's star Claire Danes, who announced she's pregnant with her second child with husband Hugh Dancy. She also revealed that she's "deep" into her second trimester, meaning she's been keeping things on the DL for months. And Danes revealed that keeping her pregnancy a secret on the set of Homeland during her first trimester wasn't exactly easy.
In an April 19th interview on The Tonight Show Starring Jimmy Fallon, Danes joked, "I'm knocked up!" And while she noted she's been feeling good these days, she admitted that the early stages of pregnancy were a challenge. She called the first trimester her "least favorite phase," saying, "You just feel horrible. You just feel rotten and you're not allowed to say why."
She said, "I was filming quite a lot and just inadvertently falling asleep all the time. It was embarrassing."
Danes said she did have the support of her costumer on set, and the two took up knitting and crocheting. But even that didn't go so smoothly because Danes accidentally "face planted" onto a crocheted bag in between takes, right before a close-up shot. She said, "I sit up, and I have this crocheted indentation all on the side of my face. It looked like I had third degree burns. It was intense! They were massaging my face. They had to get out the blow dryer. I halted production for a good half an hour. I felt like an idiot."
https://www.youtube.com/watch?v=721iL8vi2eY?feature=oembed
As hilarious as her story is, we're sincerely happy that she's feeling better now, because we're sure it wasn't easy to hide such a huge secret on such a large production. We're sending all our congratulations to Danes and Dancy, and we can't wait to meet their new little one soon!