Cinnamon swirl hair is actually the beauty equivalent of a delicious pastry
We're loving the sound of the newest hair trend—cinnamon swirl hair. TBH it's kind of making our mouths water. Also, we're wondering if it might look like this…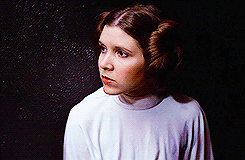 Alas, no. (Although those do sort of look like cinnamon buns on either side of Princess Leia's head. Just saying. No judgment, though. She ROCKS that look like nobody's business.)
So what exactly IS cinnamon swirl hair, then? It's a new color technique from hair artist Ryan Pearl. "Cinnamon swirl" actually refers to the color, a gorgeous blend of caramel and golden brown. Pearl, who is also the genius behind chocolate chip cookie hair, says he likes to use food to describe hair color rather than traditional colorist's words. He told Cosmopolitan, "It paints a better picture than 'warm tones, cool tones,' that some people don't understand."
Plus it just sounds delish.
Pearl worked with Mane Addicts and model Natalia Borges to develop the cinnamon swirl color by painting Borges' hair and then using foils. Borges' roots will be less visible as the color grows out (holla!). Pearl says, "Everyone's doing a lot of hair painting right now, but I like to do hair painting and put it into a foil. That gives the hair some brighter pieces and more pop. It doesn't make everything look so blended, so it gives it a more dimensional look rather than a really blended look. That's what makes this look different."
It's not only different, but also absolutely gorgeous.
We're loving this look. Related: we're also craving cinnamon buns now.
[Images via Shutterstock and Instagram.]