Here's why we think Cindy Crawford's daughter Kaia Gerber is the next IT girl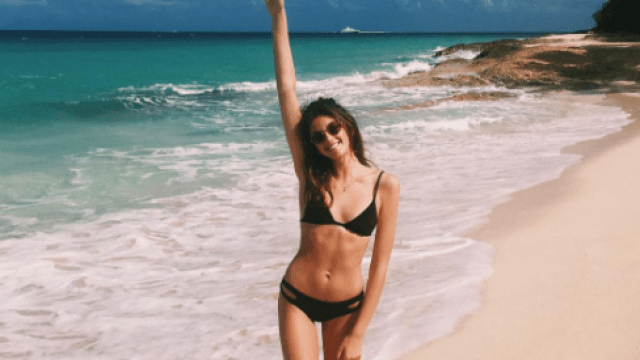 Every once in a while something comes across our desk that requires instant and immediate investigation. Yesterday, it was how we could possibly afford all the delicious Fashion Week looks while still having money for food — and today? It's how we're 99.999% sure that Kaia Gerber is the next Jenner/Hadid/it-girl that we all aspire to look and be and feel like. How do we know this? After hours of long, hard work (watching her in interview clips from NYFW and prowling through her Instagram like a team of total weirdos) we have arrived at this hypothesis for a few cold, hard reasons. We'd like to take this time to explain our findings with you today.
Please, take your seats while we wow you with our newest breakthrough in future-famous-face-forecasting.
For starters, let's talk ~IT~ girls. It girls are often models. At the moment, we would argue that the Jenner and Hadid sisters are capturing the "it" corner of the zeitgeist.
Okay, so how is Kaia Gerber like a Jenner/Hadid?
Famous family
First of all, there are the genes. Much like Bella and Gigi (and even young Anwar), mom Yolanda Hadid walked, posed, modeled and won over all the world's modeling agencies back in the '90s. Kendall and Kylie Jenner are part of the Kardashian/Jenner dynasty, but we don't really need to elaborate on that. Kaia Gerber's got some effin' amazing genetics behind her, seeing as she is the daughter of one of the most beautiful and iconic women in the world — Mrs. Cindy Crawford. That trademark mole, those brows, the legs! Cindy's still a powerhouse in the beauty department, and her knowledge and complete ownage of the industry can only be an asset to young Kaia. Check out gorgeous big bro Presley, too:
Same stylist
Next: let's look at the similarities between the Jenner and Hadid girls and now, Kaia. All use stylist Monica Rose, who is responsible for tons of the looks featured in Kendall's addictive Insta feed, as well as the mind behind the Hadid girls' effortless street style. Monica's own feed is made up of shots of all five girls, Kaia included. We're guessing she's not the most available stylist, so the fact that she's got Kaia as a client says a lot.
The makeup
Kendall and Kaia have a makeup artist in common: Hung Vanngo. If you wanted to engineer a supermodel-of-the-moment, you send them to this guy.
The strongest evidence, though: Kaia's face. She even looks like a combo of everyone's favorite names right now.
Yes, girl. Get it.