The most intriguing Cinco de Mayo trivia you should definitely know before celebrating this year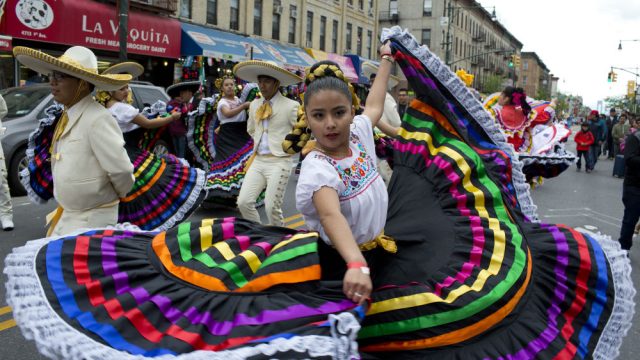 For many people, May 5th represents Cinco de Mayo, a celebration of Mexican heritage. However, despite its popularity in the U.S., the holiday is largely misunderstood, and unfortunately, often leads to significant cultural appropriation. That's why it's crucial to learn the basics of Cinco de Mayo if you're going to be partaking in the festivities — along with some solid Cinco de Mayo trivia, of course.
And we know — research can be daunting. Which is exactly why we've gathered some of the most important and interesting Cinco de Mayo trivia for your knowledge-loving brain to absorb. Not only will you be better informed after perusing the below, but you might just wow a friend or two as you celebrate the day. So, like, double win.
Read on for knowledge!
1Cinco de Mayo is not a day to celebrate Mexican independence.
Many people believe that Cinco de Mayo is a celebration of Mexican independence. However, the holiday actually celebrates Mexico's victory over France during the Battle of Puebla on May 5th, 1862. The French army was much larger but the Mexican people stood their ground in Puebla, and won. While the French eventually did overtake the city, it's still considered a victory.
2Cinco de Mayo started in the U.S. in the 1960s.
Some might wonder how this Mexican celebration of victory over the French made its way to the United States. In the 1960s, Chicano activists began to raise more awareness about Cinco de Mayo because they could identify with the victory of indigenous Mexicans. They felt that the Battle of Puebla was a good way to celebrate Mexican heritage, and so it began.
3There's an American Civil War tie-in.
If it weren't for victory at the Battle of Puebla, France may have helped the South during the American Civil War, which could have completely changed the outcome.
4President Roosevelt made the holiday more popular in the U.S.
In 1933, Roosevelt enacted the "Good Neighbor Policy," which was supposed to improve relations with Latin American countries. Cinco de Mayo became an essential way to connect the two different cultures.
5Cinco de Mayo isn't considered a big holiday in Mexico.
While the day is widely recognized in the U.S., Cinco de Mayo isn't  considered a federal holiday in Mexico, and celebrations are relatively small compared to those in the United States.
6The largest Cinco de Mayo event in the WORLD  happens in L.A.
That's right — Los Angeles! The Festival de Fiesta Broadway is the world's largest Cinco de Mayo celebration. More than 600,000 people celebrate annually. Two other significant festivals are held in Denver, Colorado and St Paul, Minnesota.
7The city of Puebla has the largest celebration in Mexico.
While Cinco de Mayo may not be incredibly popular in Mexico, it's still an important day in the city of Puebla, which is where the historic battle took place.
8Celebrations in Mexico are totally different than the U.S-based ones.
While many in the U.S. associate the day with happy hour margaritas and guac, in Puebla, it's referred to as El Día de la Batalla de Puebla (The Day of the Battle of Puebla). The holiday is celebrated with political speeches, battle re-enactments, parades, and fireworks.
9Americans consume more than 80 million pounds of avocados on Cindo de Mayo.
It's no secret that guacamole is the dish to eat in the U.S. on Cinco de Mayo. That adds up to a lot of avocados. In fact, the California Avocado Commission says that Americans consume up to 81 million pounds of avocados on Cinco de Mayo every year.
10It's also the day Americans drink the most tequila.
Avocados aren't the only thing Americans are inhaling on May 5th. It's also the largest tequila consumption day in the country. Since 2002, U.S. imports of tequila have grown almost 50 percent, and in 2008 alone, more than 10.6 million 9-liter cases of tequila were sold.
11Tacos are not considered the traditional dish of the day.
Aside from guac and margs, everyone knows that Cinco de Mayo is all about the tacos… right? Wrong. In Puebla, the traditional dish eaten on this holiday is mole poblano. Mole (which is pronounced with an emphasis on the second syllable, like guacamole) was invented in the 17th century, and is a thick sauce made of chocolate, chili peppers, and other spices. It's traditionally served over turkey legs. So if you want to celebrate Mexican heritage on May 5th, put down the tacos, and go to an authentic restaurant.
12It's the 7th largest holiday for the U.S. beer industry.
Tequila and avocados aren't the only items in demand on Cinco de Mayo — so is beer. The beer industry reports almost $700 million in beer sales on May 5th.
13In Vancouver, they celebrate with skydiving boogie.
Vancouver, Canada celebrates the holiday with a tradition called a "skydiving boogie," which involves aerial acrobatics and an annual air show. Sounds pretty interesting.
Try to keep this Cinco de Mayo trivia in mind when you celebrate this year. The holiday is more special when we understand its context and history.