Ciara is getting majorly mommy-shamed for taking her baby on a slide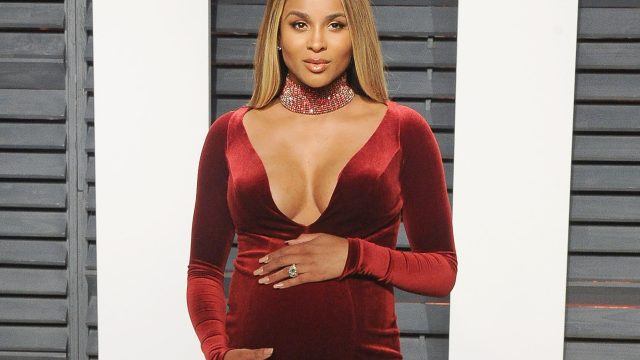 Today in We Can't Believe This is Really Happening, we learned Ciara is getting mommy-shamed for taking her kids on a water slide. We're not sure what's happening, but mommy-shaming seems to be on the rise —and social media doesn't seem to be helping. Chrissy Teigen received backlash on Twitter for going to dinner last April (yes, really). Last summer, Kristin Cavallari was criticized for how "skinny" her son was. And Pink was scolded for cooking with her son strapped to her chest last week. Come on, guys.
Ciara is currently on vacation in China with husband Russell Wilson, their youngest child, Sienna, and Ciara's son, Future Zahir. She's been documenting their entire trip via Instagram and it looks like a fun time. The family brought Future Zahir to Disneyland Shanghai and the whole Ciara squad just recently visited the Great Wall of China.
But some Instagram users are currently casting a dark cloud on Ciara and the fam's sunny day. Mommy-shamers began expressing negative opinions about Ciara taking her 3-month-old daughter on a toboggan ride down the Great Wall.
If you can't tell from the video, Ciara has Sienna strapped to her chest in a secure baby carrier. And Future Zahir is planted firmly in Wilson's lap. But that doesn't seem to be good enough for some fellow moms.




But what these commenters don't realize is that it's never okay to tell a mother how to mother. Ciara, as Sienna and Future Zahir's mother, knows what is right for her children and doesn't need anyone else's judgement.
Luckily, many of her fans came to her defense in the comments.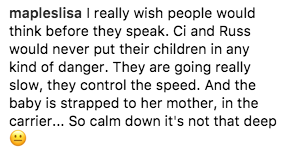 Let moms live their lives. Just because one mother might not be raising her children in a way that you see fit does not mean she's any less of a good mom.