Ciara got engaged and her ring is quite possibly the largest rock of all time
Rihanna must be psychic because when she was singing "Diamonds," she 100% must have been envisioning the engagement ring that's now on fellow singer Ciara's finger.
About 3 hours ago, Seattle Seahawks quarterback Russell Wilson posted an absolutely adorable video on Instagram announcing that he and Ciara are beautifully betrothed. The two appear to be at the beach (you can even hear the waves in the background!) and there's a romantic meal behind them. Wilson exclaims, "She said yes!" and Ciara replies, "Ahhh! Yay! I'm so excited!"
Despite the fact that it's dark out, there's no mistaking Ciara's diamond ring. Essentially, Ciara will never need a flashlight ever again because her ring can conveniently double as a light source. Also, though we have no idea who made the rock, we highly suspect that Snow White's dwarves may have offered Wilson a helping hand: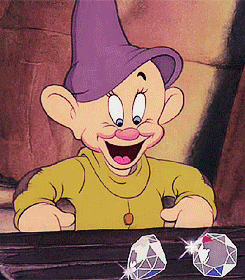 I mean, her ring is so big and so beautiful that it must have come from some magic, fairy tale, wizard place, right?!
To make matters even more squee-worthy, this is how Wilson captioned his Insta video: "She said yes!!! Since Day 1 I knew you were the one. No Greater feeling… #TrueLove @Ciara" Ciara also posted the clip on her own feed and wrote, "God Is So Good! I'm So Grateful For You @DangRussWilson. You Are Truly Heaven Sent, and I'm Looking Forward To Spending Forever With You." (As of right now, we've said "Awwww!" like 500 times.) 
The singer even shared a behind-the-scenes image showing her now fiancé getting down on one knee with a breathtaking sunset behind them (yeah, magic was definitely involved). To caption the snapshot of Wilson tenderly kissing her left hand, Ciara touchingly wrote, "I Feel Complete."
Aside from the fact that we'd like to ask NASA if Ciara's ring qualifies as a planet, we're super happy for these two. Based on the announcement video alone, we have a feeling that they're literally going to ride off into the sunset toward their happily ever after.