"Christmas tree brows" are the latest brow trend, and we don't know how to feel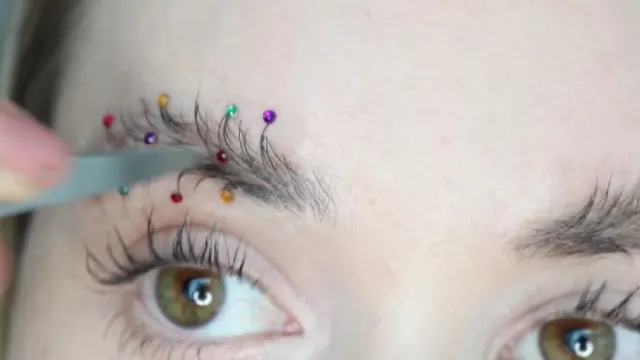 Have you heard about Christmas tree brows? If not, you might want to listen up — since if you follow beauty trends, they'll be invading your Instagram feed pretty soon. Christmas tree brows, also known as "Bauble brows," involve decorating  your eyebrows much like you would a Christmas tree. It's kind of like how men sometimes decorate their beards with tree decor, but less heavy. Still, they're pretty extreme.
While Instagram user @bronya_h is credited as being the first to debut the look, she admits that the credit shouldn't go to  her. She saw it while looking for inspiration on Pinterest, but forgot the user who experimented with Christmas tree brows first. Still, she's a pioneer for bringing them into the spotlight.
While she admitted she wasn't totally happy with how her brows came out, we think they're actually the perfect way to show your holiday spirit at a party or gathering this year — and we love the way she chose to style hers. Since this trend is meant to be broken out for Christmas, glitter is a big part of her overall look. Pairing it with a heavy red and gold eye was also a great choice.
As you can see, she used glitter, stick-on gemstones, and a little bit of liquid eyeliner to complete her vision. 
Of course, just like your own Christmas tree, you're free to decorate however you see fit. Others are taking this trend to crazier places. For example, these look like they'd be seen on the runway, and likely require a ton of precision to create.
Taylor R, a beauty vlogger who created the look above, actually posted a tutorial. In it, she recommended grabbing some LED lashes, which will help light up your look even more.
https://www.youtube.com/watch?v=q6xYUHb4B1k?feature=oembed
Other beauty fans are taking the name literally, and turning their brows into festive trees. This would be a great look for a holiday parade, or a friend's party.
No matter what, it's just proof that aside from an actual tree, brows are the perfect thing to decorate this holiday season.