Netflix is making a wedding-themed Christmas Prince sequel, and the holiday season needs to be here *now*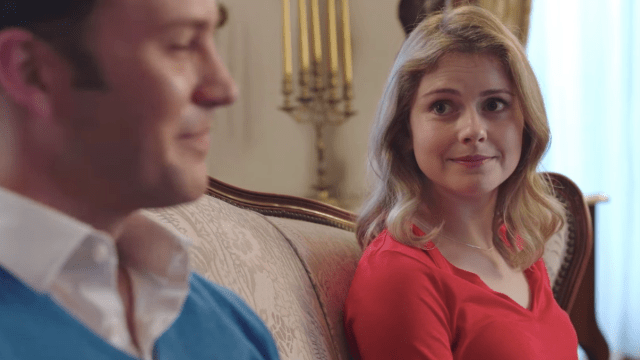 There's only one royal wedding we care about in 2018, and it's the royal wedding of semi-okay journalist Amber and Prince Richard of Aldovia.
Oh, never heard of them? That's weird, because I'm pretty sure everyone on the planet watched (and watched again and again) Netflix's cherished and beloved straight-to-streaming Christmas movie, A Christmas Prince. And now, since sometimes we DESERVE NICE THINGS, Netflix is making a sequel to the movie.
Yes, you read that right: NETFLIX IS MAKING A CHRISTMAS PRINCE SEQUEL.
The sequel is an absolute no-brainer, as A Christmas Prince (accidentally?) became the best Christmas movie of all time. The story follows Amber (played by iZombie's Rose McIver) who wants to become a "real journalist" and she winds up taking a job reporting on the coronation of Prince Richard (Ben Lamb). Once there — thanks to a series of hilarious and zany events! — she and Richard fall in luv. But can the two of them stop a plot to overthrow Richard from the throne and save the kingdom, all of which happens on Christmas????
Is it weird that the other week I actually sat down and watched A Christmas Prince and it's…May?
Anyway. One day before that other royal wedding is set to happen, Netflix dropped the big news. According to The Hollywood Reporter, the story will pick up two years in the future, as Amber and Richard "are set to tie the knot in a royal Christmas wedding — but their plans are jeopardized when Amber finds herself second-guessing whether or not she's cut out to be queen, and Richard is faced with a political crisis that threatens to tarnish not only the holiday season but the future of the kingdom."
Netflix also released a ? video showing us Amber, Prince Richard, Princess Emily, and Queen Helena watching Prince Harry and Meghan's nuptials. Amber has her computer at the ready, and honestly #ICan'tEven.
https://www.youtube.com/watch?v=Gtd3OBkGg64?feature=oembed
Is Amber going to be ready to take the plunge herself, and become a Princess/Queen? What kind of turmoil is Aldovia going to be thrown into this time?? Are we going to get another Oscar-worthy sledding scene???? Is this just the beginning of the Christmas Prince Cinematic Universe????????
A Christmas Prince: The Royal Wedding is expected to hit Netflix later this year. Please, if you're reading this Netflix, I also want A Christmas Prince movies themed around other major holidays and events, thank you.