9 super cute Christmas decorations for a small apartment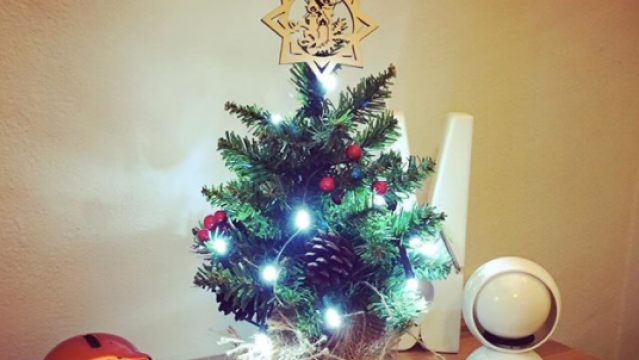 While living in a small apartment or dorm room may have its pros (such as cheaper rent or the ability to live alone), having a limited amount of space can be a total bummer around the holidays. If you barely have enough room for your everyday belongings, you certainly don't have anywhere to hang a stocking, much less install a gigantic nine-foot tree. But just because your home lacks square footage doesn't mean you have to resign yourself to being a decoration-less Scrooge. Here are some Christmas decorations that work perfectly in a tiny space.
1Mini Christmas trees
For many, Christmas decorations are synonymous with having a tree to hang ornaments on. And although you may not be able to fit a standard size tree into your apartment, a micro tree can make your home feel Christmas-y while not taking up too much space, especially if you raise it up on a table or chair to make it feel bigger. Besides, everything is cuter in a smaller size (see also puppies and cupcakes).
2Wall trees
If you have zero room for any kind of Christmas tree, but plenty of blank wall space, then creating a 2-D "tree" on a wall is a creative alternative to physical greenery. Make a flat tree image out of gift wrap (like in the photo above) or with twinkly lights, washi tape, or pom poms. Not only is it a fun DIY, but it'll give you space for the really important holiday décor, aka your presents!
3Fairy lights
Who says Christmas lights need only be for the exterior of a house? Hang small, twinkly lights from your ceiling, or frame windows or doorways with them to instantly make your apartment more magical.
4A DIY mantel
No fireplace, no problem! DIY your own Christmas mantel by converting a shelf into a place to display your stockings and other holiday paraphernalia, or hang a tree branch up like in the photo above.
5Door swag
While doors generally go undecorated most of the year, come Christmastime, they are prime real estate for decorations! Use an interior door to show off your Christmas card collection, and/or frame the doorway with garland or lights. You could also "wrap" your doorways with wrapping paper to make them look like a gigantic holiday gifts.
6Ornaments in unexpected places
Do you have more ornaments than will fit on your tiny tree? Or are you forgoing a Christmas tree all together? Hang ornaments around your home in unexpected places instead, like from the top of windowsills or your bedroom headboard. Or display brightly colored ones inside of vases or candle lanterns in well-lit areas where they will shine brilliantly.
7Corner displays
Turn otherwise ho-hum corners of your apartment, like a bar cart or a bathroom vanity, into areas for holiday displays. Deck out these areas with wreaths, holiday banners, and gingerbread-scented candles, and you'll be able to cram Christmas cheer into every nook and cranny of your home.
8Holiday-themed chair covers
Chair covers aren't just limited to use at weddings. Gussy up your boring seating arrangements at home with some chair covers that scream "Santa is coming!" and you will delight your guests when they come over for an ugly Christmas sweater party or Secret Santa gift exchange.
9Christmas pillow covers
Likewise, don't let your sleeping area go undecorated this holiday season! Simply swap out your regular pillowcases for some reindeer or snowflake ones, and you'll be on your way to creating a winter wonderland in your bedroom. (You can even DIY them!)
Happy micro-decorating!