How to celebrate both Christmas and Hanukkah as an interfaith couple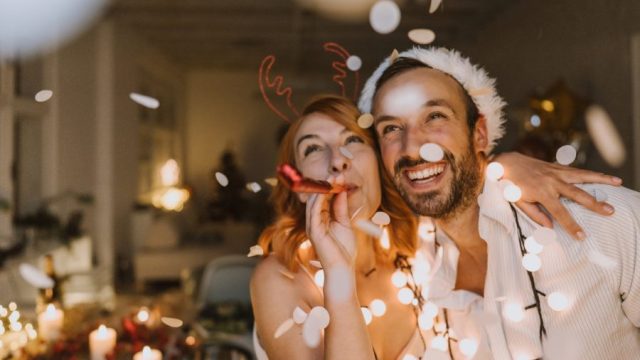 As a member of an interfaith couple, you're blessed with the opportunity to celebrate double the amount of holidays. But as an interfaith couple, celebrating Christmas AND Hanukkah can be…hectic. Since Christmas and Hanukkah typically fall around the same time, you may feel like you need to celebrate both holidays on equal terms, even though they have nothing to do with each other. And we completely understand that feeling.
Although the root of Christmas and Hanukkah celebrates two very different things (one being the birth of Jesus, the other being a victory over religious oppression… and dreidels), on the surface, they're both about lights, gifts, and family—and those are themes you can definitely work with.
So, because it's totally possible to coexist as an interfaith couple, here are some of the ways you can celebrate the two most fun holidays of all.
Light the menorah and the Christmas tree.
Christmas and Hanukkah don't overlap this year (Hanukkah starts December 12th and ends on the 20th), but since Christmas trees tend to be around for the entire month of December, just light the menorah right alongside it. But like, not too close, because fire.
Buy a Christmas tree and a Hanukkah bush. Or buy a tree and consider it doing double duty.
A Hanukkah bush is basically just a small Christmas tree. But decorate it with blue and white lights and some Stars of David, and you've got yourself a Hanukkah bush.
Put up both Hanukkah and Christmas decorations.
You don't have to choose between stockings and a "Happy Hanukkah" sign made out of foil. You can have both.
Exchange gifts for both holidays.
Because gifts know no bounds.
Read the story of each holiday the night before it begins.
Just so everyone's on the same page. Literally. The history of each holiday is incredibly rich, and whether you're educating one another or your child (or even a friend), it can be uplifting and beautiful to know the culture and the meaning of its holidays.
Make Christmas dinner and Hanukkah dinner.
Since Jewish people who keep kosher don't eat pork, you can make a turkey or brisket instead. (But, FYI, most reform Jews happily get down on ham and bacon.) Make matzo ball soup, because everyone loves matzo ball soup! (No, really, stop anyone on the street and ask them if they like it, and we're like, 80% sure they'll say hell yes.) And obvs wine is a go for Christians and Jews alike (kosher brownie points if the wine is Manischewitz).
Make holiday music playlists.
Christmas music isn't hard to come by, but Hanukkah music can be. In fact, you probably didn't even know Hanukkah music was a thing, aside from Adam Sandler's songs, obvs. Hanukkah music may not be as well-known as "O Holy Night," but what's fair is fair.
Go to church, but also to synagogue.
Most Jews don't go to synagogue for Hanukkah, but if church is on the table, synagogue should be too. Or just pray at home if you're not into either.
Invite both of your families over for a joint celebration.
It won't feel like the holidays until your entire family comes over to celebrate. If you celebrate Christmas and Hanukkah together, it'll be a fun cultural experience for all. Plus, you'll kill two birds with one big family stone.