Christina Ricci's capelet at the International Emmy Awards is how a capelet is meant to be worn
Who is this petite, coral-lipped, coy-as-anything vixen walking the red carpet? If you guessed Christina Ricci, you are right and way more attuned to what Wednesday Addams is doing these days than we are (the blonde bob threw us way off!). The notoriously goth and equally adorable (goth-dorable?) Ricci stunned as she attended the 44th International Emmy Awards in New York this Monday to support her show Z: The Beginning of Everything, which is set to release on Amazon in 2017. The series narrates the life of Zelda Fitzgerald as she falls for and has an affair with Gatsby author F. Scott Fitzgerald, in what's sure to combine drama, history and insanely fancy 1900s costumes in a way that we've been desperately missing since our dear Downton Abbey left us in 2015 (RIP!). In present day, however, Ricci pulled together a look so fresh, we're googling pieces of it to add to our holiday wishlists. Joking? Maybe.
Check out the queen of black-on-black as she wows on the red carpet.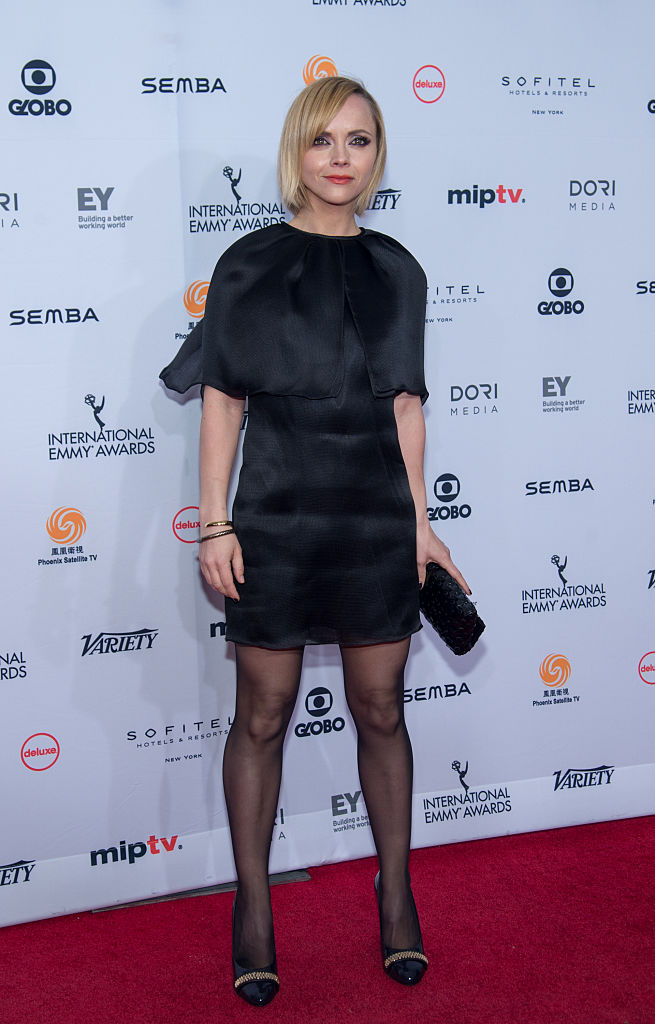 Ricci arrived in this stunning, sheer black capelet (a piglet is a baby pig, so a capelet is a baby cape, duh) which gracefully fluttered at her shoulders over a matching, slightly iridescent LBD.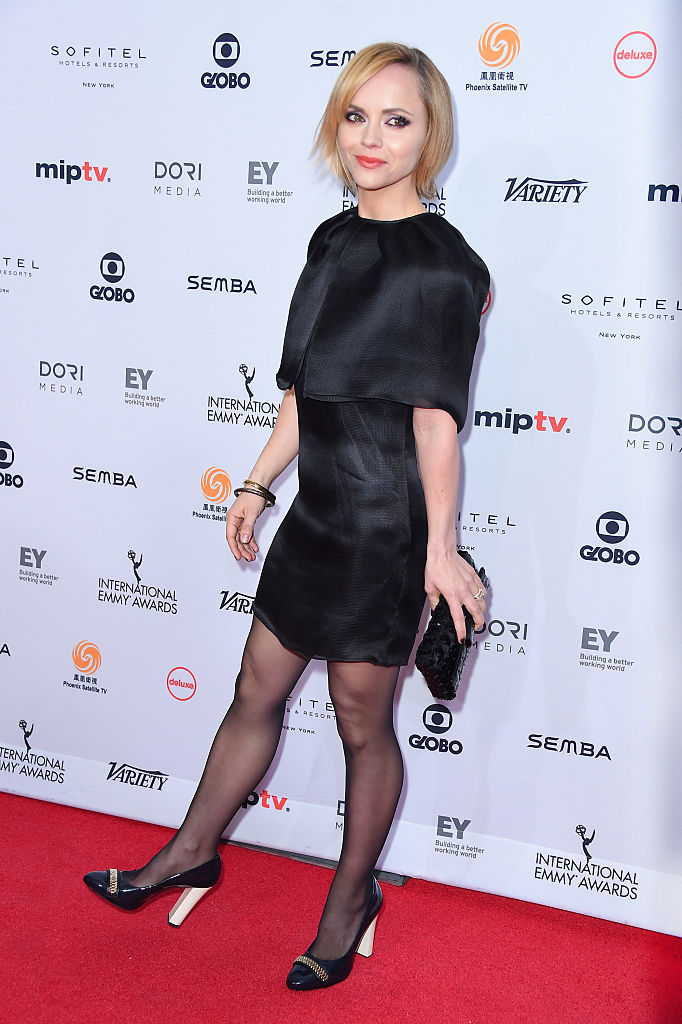 Christina kicked up a pair of gorgeous two-toned block-heels that are so totally '60s, save for some chic metal hardware at the toe. She paired the heels with some sheer black nylons and a detailed black clutch. It it ain't broke, don't add color to it!
(Easter egg: we love that she's got one naked thumb nail amidst an otherwise perfect black mani. Is this the nail she tries new shades on at the polish bar at Sephora? Is Christina Ricci just like us?!)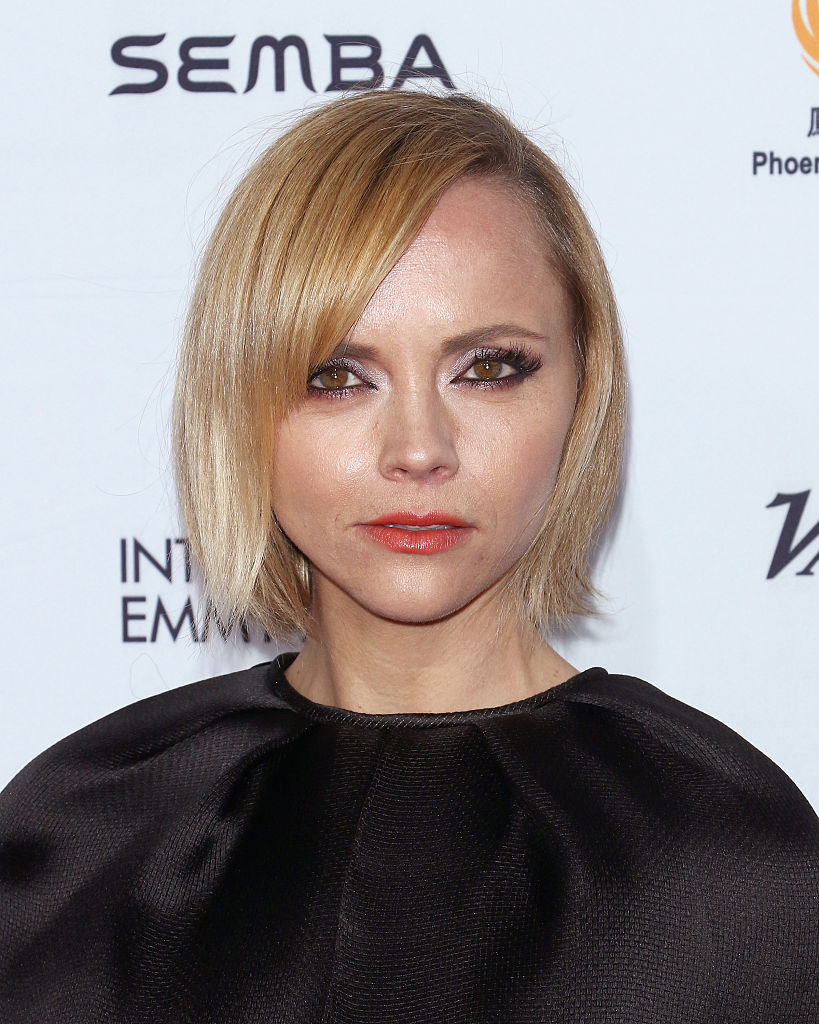 The '90s it-girl lined her famous eyes in black pencil with a touch of lilac shadow to lighten her now golden complexion. Her lips were a glossy coral, and her brows a matching champagne shade to her temporary (maybe?) and downright lovely blonde.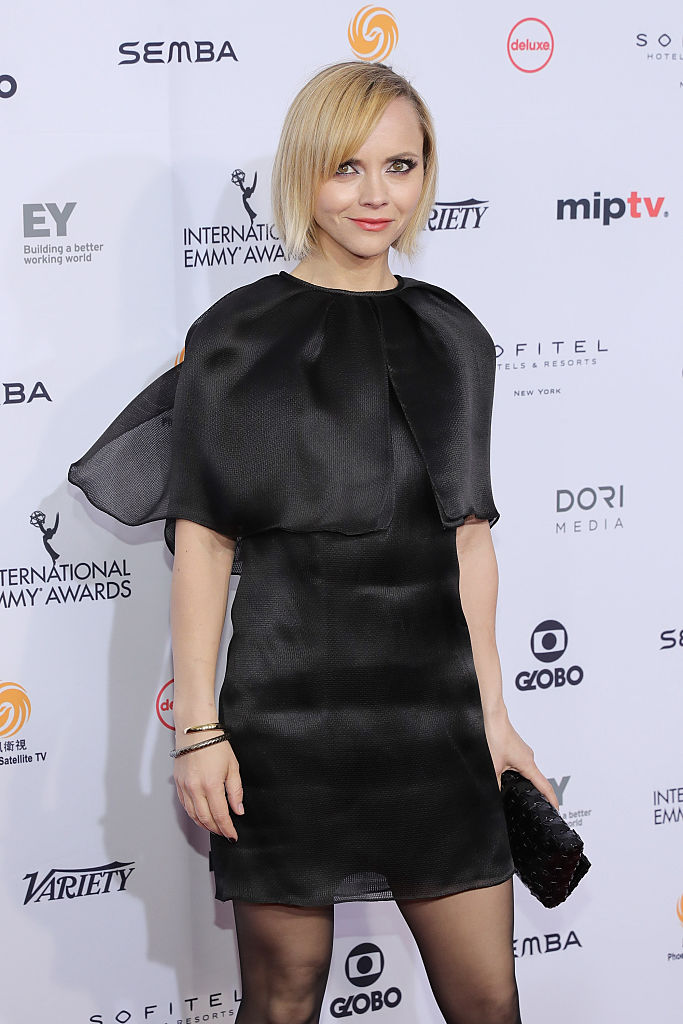 Christina is no rookie on the red carpet and knows to keep things simple. She stuck on a wrap bracelet and some dainty rings and left it at that.
Like we said: she's a pro.