Christina Aguilera spilled the tea on her supposed rivalry with Britney Spears, and we're listening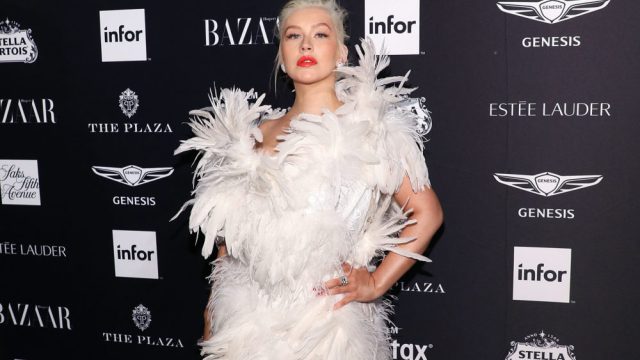 Coke versus Pepsi. Skittles versus M&M's, and, yes, Christina versus Britney. These are the rivalries we grew up with, right? Well, turns out, that last one is not entirely accurate, and Christina Aguilera just set the record straight.
On a September 12th appearance on Jimmy Kimmel Live, Kimmel asked the singer if she thought social media would have made fame at a young age better or worse for her. Aguilera considered the question, then said that while she values her privacy, social media would have made a lot of things way easier back in the day—specifically, "squashing beefs."
"Back in the day, whenever people were comparing me to other artists, I would have just loved to squash it before having an interview," she said. "You do an interview and back then, it was just like the media was the storyteller for you and you didn't really have a say, rather than being like [mimes typing on her phone], 'This is what it is, here's a picture of us right now hanging out, in our pajamas eating popcorn' or whatever."
She added, "When I was coming up, it was very obvious, you know, me and Britney [Spears] were definitely…there was the Britney-Christina considered rivalry thing. If we had social media back then, we would have probably done a song together and just squashed it."
Hear, hear!
Kimmel reminded her that it's "probably not too late for that," (that is, a Christina and Britney collab), and Aguilera was totally on board. "Hey, I'm down," she said. "If her reps say OK…"
Check out everything she had to say on the matter below.
https://www.youtube.com/watch?v=O-Ereqe96Z0?feature=oembed
We fully agree—a Britney and Christina duet is long overdue. Britney, are you listening?