Christina Aguilera revealed Ryan Gosling's Mickey Mouse Club crush on "Carpool Karaoke"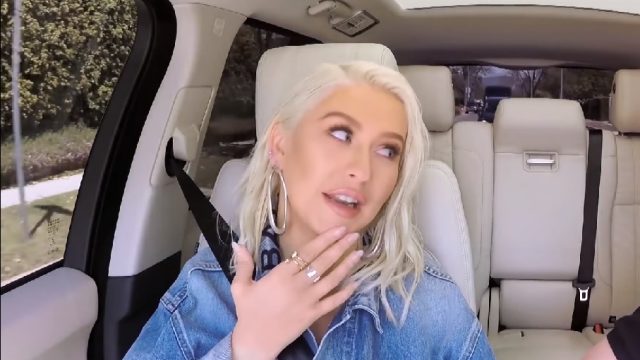 Back in the early '90s, lucky subscribers of The Disney Channel tuned in to The All New Mickey Mouse Club, which launched the careers of a ton of familiar faces — Justin Timberlake, Christina Aguilera, Britney Spears, J.C. Chasez, Keri Russell, and Ryan Gosling, to name just a few. And during an April 23rd appearance on "Carpool Karaoke," Christina Aguilera spilled the tea on who was crushing on who in those formative days.
"I think there were crushes, but I wasn't on that train," she told Corden between song breaks. Though she did sing the praises of former costar Timberlake. "He had swag, I have to say," Aguilera admitted. "Even back then, he had swag."
Corden made sure to ask if she ever "got lost" in a certain Mr. Gosling's eyes. She denied it, but noted,
"I know Ryan actually, pretty much, he did have a crush on Britney. I think so!"
Oooooh! Corden then joked that "she must be regretting that," to which Aguilera told him she thinks everything worked out just fine.
Aguilera's Carpool Karaoke is worth watching for the music, but the gossip makes it a must-see.
https://www.youtube.com/watch?v=R10qTLfwm8E?feature=oembed
Yes, that's Melissa McCarthy jumping in to rap on "Dirrty."
In case you now have some major Mickey Mouse Club nostalgia, here's a video compilation of the best moments from back in the day. You're welcome in advance.
https://www.youtube.com/watch?v=6Xlv4Cj68s0?feature=oembed
Fingers crossed these guys are nostalgic enough about The All New Mickey Mouse Club to have a reunion someday. We've have a feeling they've got a lot more stories to tell…