Christina Aguilera is shooting a movie with pink hair and we have so many questions
Christina Aguilera is beautiful, no matter what you say, OR what color her hair is. Her locks have been through many evolutions, but usually she ends up back at bombshell platinum blonde that frankly looks perfect on her. Not that she hasn't looked amazing with other hair colors, but we'll be honest — blonde Xtina is the Xtina we know and love best of all.
And since she hasn't yet finished her album, allegedly, and we're left with single song releases while we wait, we're going to have to focus on something other than her music. Like her amazing new hair. And her acting career. And the intersection of these two things.
And how she apparently dyed it pink for her role in Melissa McCarthy's Life of the Party movie.
false
Now, as mentioned, we do love blonde Christina. But the pink looks pretty good too. (This is a thing lately, it seems — celebrities dying their hair shades of bubblegum. We're kinda into it.) Christina's role in the film is under wraps still, like much of the plot and other casting choices. But if we peak at IMDB, it's pretty clear… this cast is DOPE.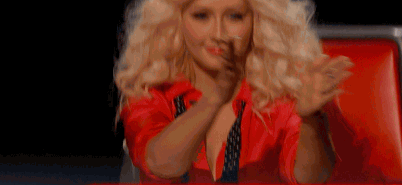 Not only will Life of the Party feature pink-haired Xtina and Melissa McCarthy, but it also lists Julie Bowen, Gillian Jacobs, Maya Rudolph, and Debby Ryan… so this sounds like the girl power sleepover of our dreams.
So, while the headline here is obviously Christina's amazing new pink hair, the low key subtext of this post is that we're looking for Christina's stylist so we can talk about her pink hair and somehow get Xtina's deets and from there get invited onto the set of Life of the Party so we can see her hair in person and hang out with many of our faves.
This is totally reasonable… right?