Christian Siriano's new bridal line includes plus sizes, because duh, why wouldn't he?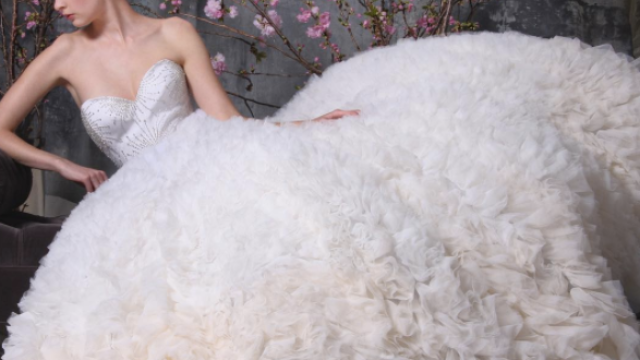 It's pretty surprising that the bridal industry doesn't market more plus-size dresses to brides-to-be. Luckily, Christian Siriano's new bridal collection includes plus sizes. All of the looks in the new 2018 collection run from size 2 to size 26.
This is where we bow down to the inclusive designer.
Wedding dresses come with a lot of expectations, one of the worst being that a bride somehow has to "get in shape" to fit into the dress of her dreams for the big day. Sure, everyone wants to be healthy and glowing on their wedding day, but dropping four dress sizes shouldn't be a thing one has to do. There's a lot more work to be done — like planning the perfect party and avoiding your extended family as much as possible.
Siriano agrees. He told Mic's Slay:
"For every bride, it's almost like this notion that they need to lose weight. It's a misconception, that looking your best means that you're thin. That's why so many brands think that a bride doesn't want to see a plus-size woman advertising dresses for them, which is false."
It really is, especially given that the "average" size of American women is a size 16.
Siriano said that it's not a *thing* for his team to make more sizes, because it shouldn't be."I think it was just pretty easy, a no-brainer for us. It just made sense," he said about his new collection. "I think it's important that all the dresses, everything we're offering, can come in any size. That's an important thing."
Some designers balk that designing for other sizes can be more difficult, but that's not the case. "The process is different," Siriano said, so there are different things to things to consider, but it's not hard.
The designer added:
"We can't have every size in every style in the world, but it's the awareness, seeing women who are a little more similar, that I think is helping. I think it's just relevant in the world to include women who aren't a size 2, and it takes designers and editors both to get those images out there. It takes a full group of people who understand the problems to really make change."
You can check out the full collection at Vogue, and if you're in the market for a designer dress, the two pieces that Siriano designed for Samira Wiley and Lauren Morelli are included in the collection.