How Harley Quinn inspired more whimsical, playful makeup and hair on the runway
Forget what you think you know about Harley Quinn's sky-high, dip-dyed pigtails and blue stained eye makeup. At Christian Siriano's New York Fashion Week show, elements of the weapon-wielding villainess's style were reimagined for the modern-day woman (one that lives in this universe instead of the fictionalized DC Comics one), complete with bright pops of color, a touch of edginess, and of course, that signature tiny heart face tattoo.
Siriano turned his inspiration of Harley Quinn running through an abandoned funhouse into a playful collection, and that spirit carried itself both backstage and into the show itself, with looks as high-energy as Quinn.
The diverse group of models embodied an almost whimsical quality, with fuchsia-stained lips and strands of hot pink hair, proving that pink is a color to be reckoned with. Soft was mixed with hard thanks to deep black eyeliner that was smudged just so, and glossy licorice nails that were accented with just a hint of glitter.
Playful and feminine without being over-the-top, we're breaking down how to get bring Harley's everyday edgy into your own hair and makeup routine, because let's face it, we all want to be one of the badass ladies in Birds of Prey.
The Makeup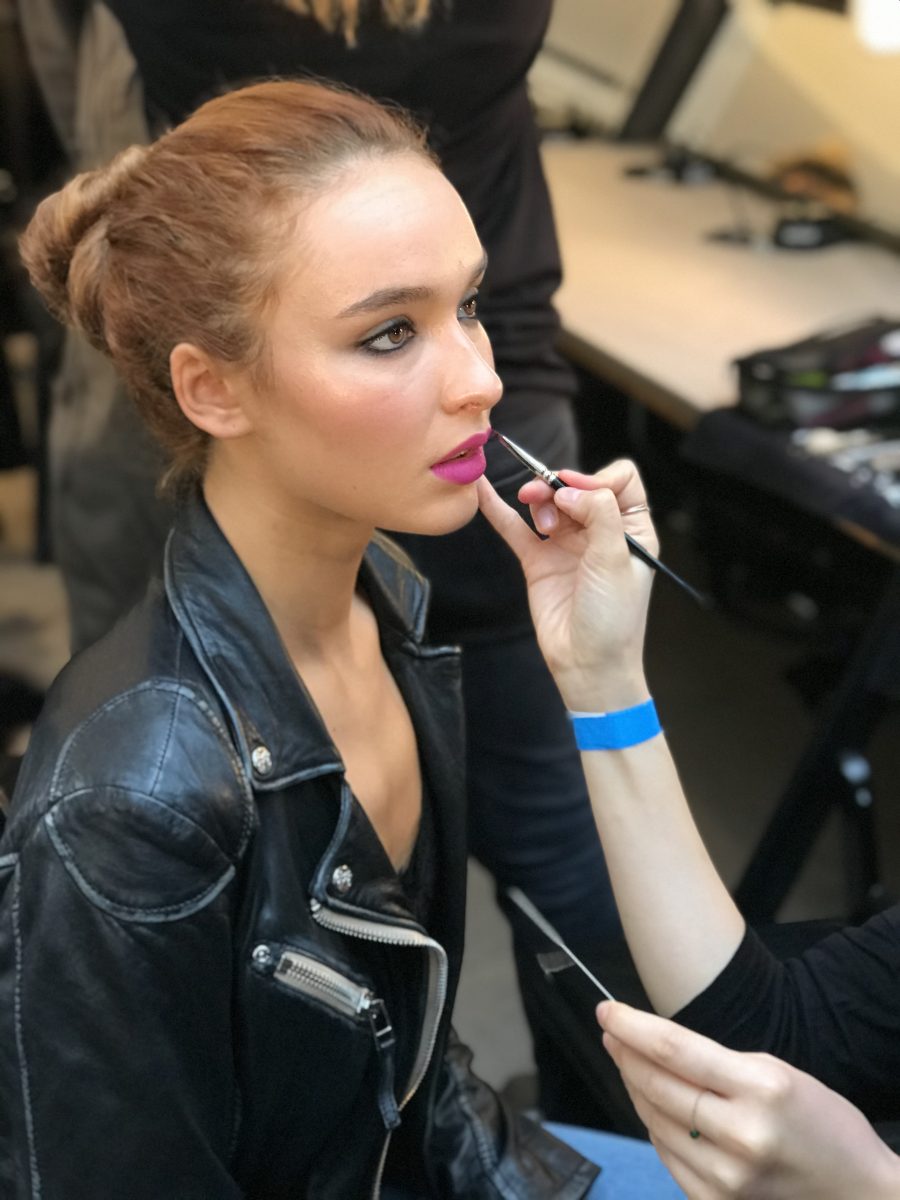 No Harley Quinn-inspired makeup look could be complete without a bold lip—the character's signature mischievous smile is always accented by her favorite shade of red lipstick—and the matte magenta lips on the runway were certainly the focal point for lead Maybelline makeup artist Erin Parsons' overall look. Created by mixing the shades Creator and Romantic of Maybelline's SuperStay Matte Ink Liquid Lipstick (our beauty editor's all-time favorite product) Parsons was able to create the perfect tone of orchid pink for each skin tone.
Next came the smoldering eyes, which Parsons created with a line underneath and on top of each eye with Maybelline's tattoo studio pencil. She slightly smudged each of the lines for a delicate shadow underneath, because spoiler alert: smokey, undone eyes are making a comeback.
"Of course we love the days when our eyeliner is perfect," Parsons told HelloGiggles, "but in the working world we don't always have that time. I think [smudged liner] is about doing something quick and a little tougher. It's a little more worn-in, which makes it cooler."
But don't throw away that liquid liner just yet. Why not use it to draw on one of your very Harley Quinn face hearts? Using a stencil she got a Michael's (yes, the craft store), Parsons gave the biggest nod to Quinn's colorful character with a mini face heart above the cheekbone using the Hyper Easy Liquid Liner.
In her estimation, tiny tattoos might not just be a trendy thing for celebrities to get done, but a new way to use makeup.
"I think people are being more creative with makeup," she said. "It's cute, and it doesn't have to be so difficult."
The Hair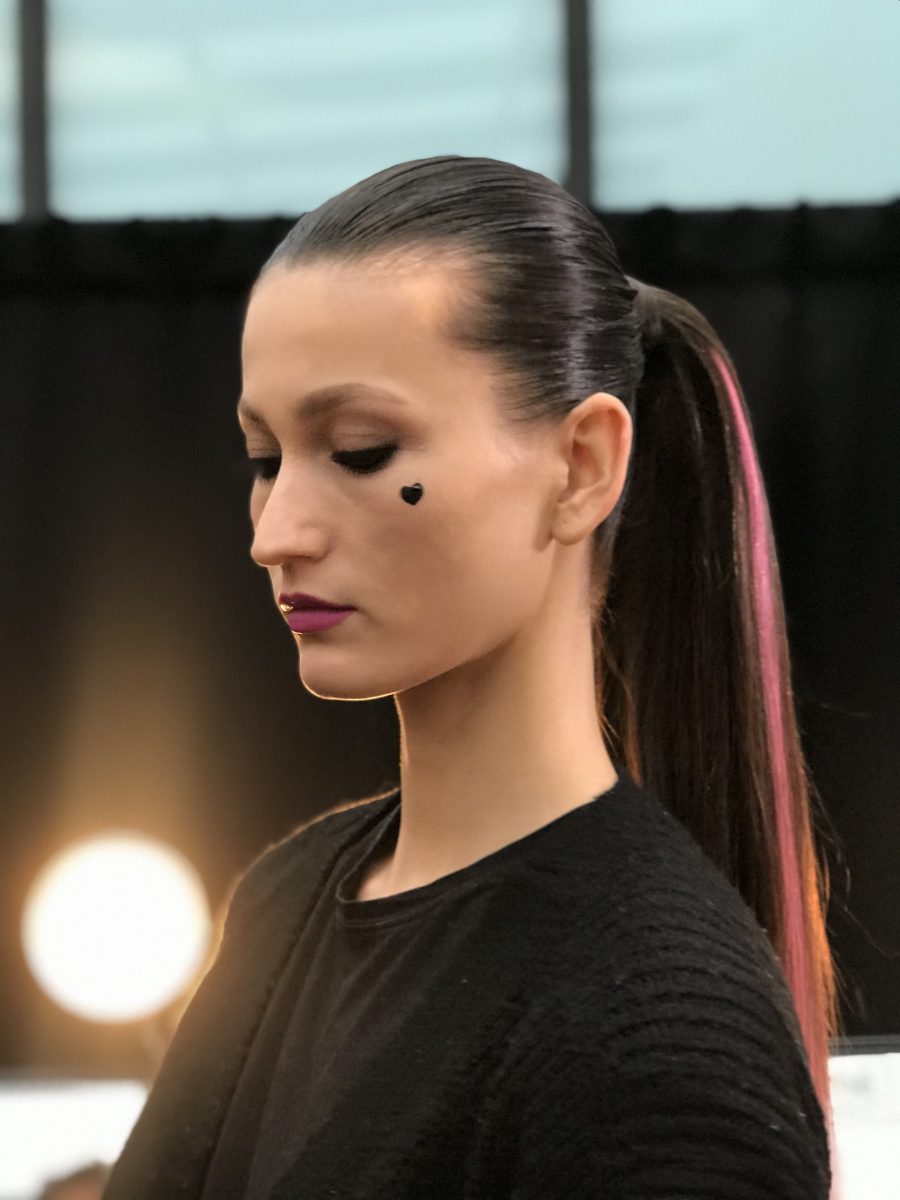 Sleek and chic was the name of the game with Tresemmé Global Stylist Justine Marjan's look, but Quinn's style influence could be seen in the blue and pink pieces throughout the back of each straight ponytail.
Clean and slick in the front using  TRESemmé TRES TWO Extra Hold Gel and the Compressed Micro Mist Level 4 Hair Spray "for grip" Marjan says the key to a perfectly silky smooth pony is gathering it half up first, then adding in the rest.
"It's easier to control that way," she says.
Once the ponytail was secured, Marjan added Hidden Crown ponytail extensions, which were all customized with a few fun streaks of baby pink and blue.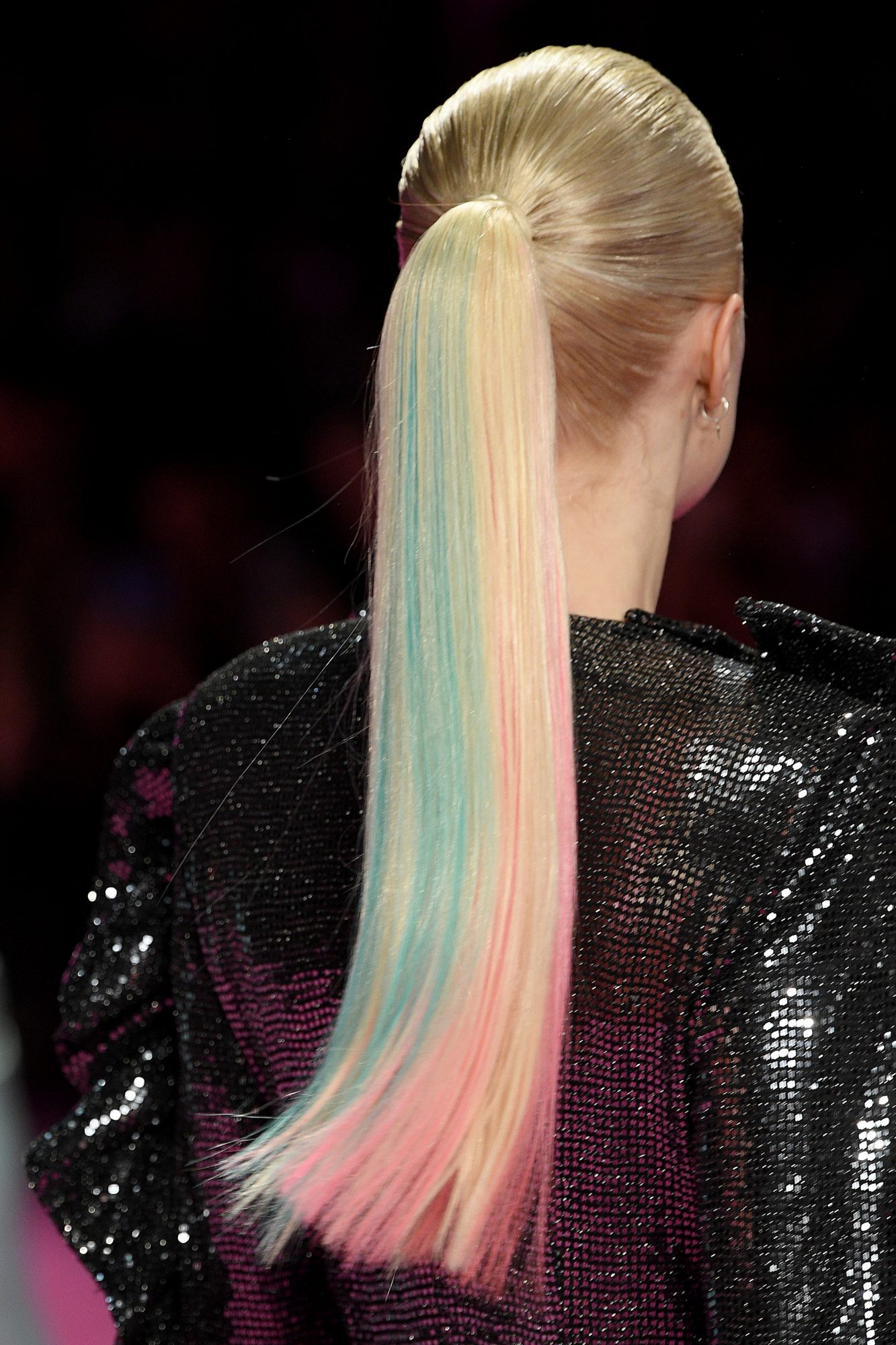 "Siriano's collection has loose Harley Quinn ties," Marjan explains. "From the font it's seen mostly in the makeup, but from the back, she has that pop of color."
The Nails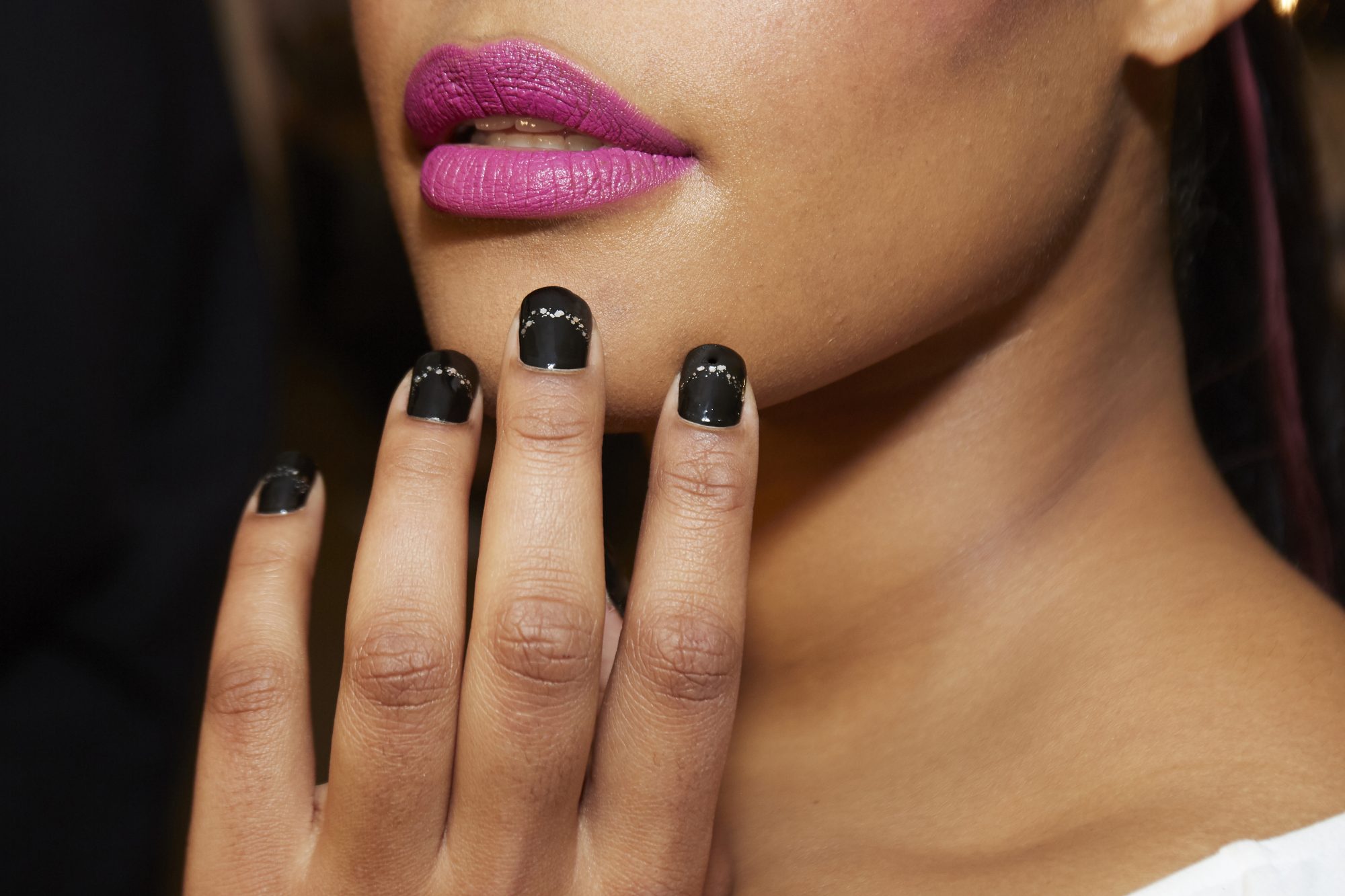 Inspired by the shiny pieces in Siriano's collection, nail artist Julie Kandalec told HelloGiggles she wanted the nails to be "elegant and edgy at the same time."
Using essie nail polish in black licorice, "the perfect shiny, patent black," she gave a base coat the each of the models' natural nails, accented them with a glittery crescent shape in essie's set in stones, and finished them off using the speed setter top coat for optimal shine.
Overall, the looks were modern and bold, striking a balance between a badass chick and a feminine woman. Welcome to 2020 fashion.