A Christian author just announced she's dating soccer star Abby Wambach, and we think it's unbelievably beautiful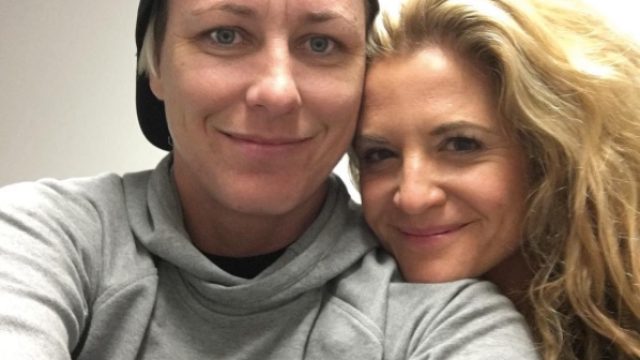 We love hearing real-life love stories that trump hate and crush stereotypes, and Cosmo just let us know that a popular Cristian author revealed she's dating Abby Wambach. As in Abby Wambach the soccer legend who is hanging up her cleats at the end of this year (she deserves some time off after a stellar career!) and who inspired a barbie doll because she's such a total badass on the field.
You might have heard that Wambach is recently divorced from Sarah Huffman, and we're happy to hear about her flourishing relationship with Glennon Doyle Melton, the writer behind the empowering Momastery blog and other projects. Melton also recently divorced from her husband.
Melton actually announced her new relationship on Instagram with a lengthy and emotional post all about Abby.
"So today, I'm going to share with you my new love. Her name is Abby. You might recognize her from soccer. She was one of the best players of all time, and she has been a fierce and committed advocate for women's equality for a decade. And honestly? Those are the least impressive things about her."
Awwwwww! So what are the most impressive things?
"Abby is deeply sensitive and kind. The kids call her an M&M because she looks tough on the outside but inside she's really mushy and sweet. Abby's brave. Not just with her words but with her entire being. And oh my God, she is so good to me. She loves me for all the things I've always wanted to be loved for. She's just my favorite. My person."
Awwwwwww! She goes on to talk about her ex-husband Craig and their kids, and how everyone supports her relationship. The post was so long that it needed a "part two," which was all about how the world needs to accept women as they are.
"My loves, here is the good news: You are allowed to think and feel WHATEVER YOU NEED OR WANT TO FEEL! [...] Because what the world needs — in order to grow, in order to relax, in order to find peace, in order to become brave — is to watch one woman at a time live her truth without asking for permission or offering explanation."
Soooooo much YES to this right now. Congratulations to the happy couple!