What it's really like to be a professional female athlete
Christen Press is 27 years old and she's been playing soccer for a good many of those years. Her skills on the field have taken her from playing in high school, to playing forward for Stanford, to now playing for the U.S. Women's National Team (she won the World Cup last year!) as well as a club team in Stockholm. She's an Olympic hopeful too, and we're crossing our fingers to see Christen take the field this summer in Brazil.
In addition to soccer, Christen is an avid yogi, a blogger, and host of a digital sports series for FOX, plus she has a seriously inspiring Twitter presence. She's also committed to giving women's sports the coverage and airtime they deserve. With that in mind, we picked Christen's brain for her thoughts on what it's really like to be a pro female athlete.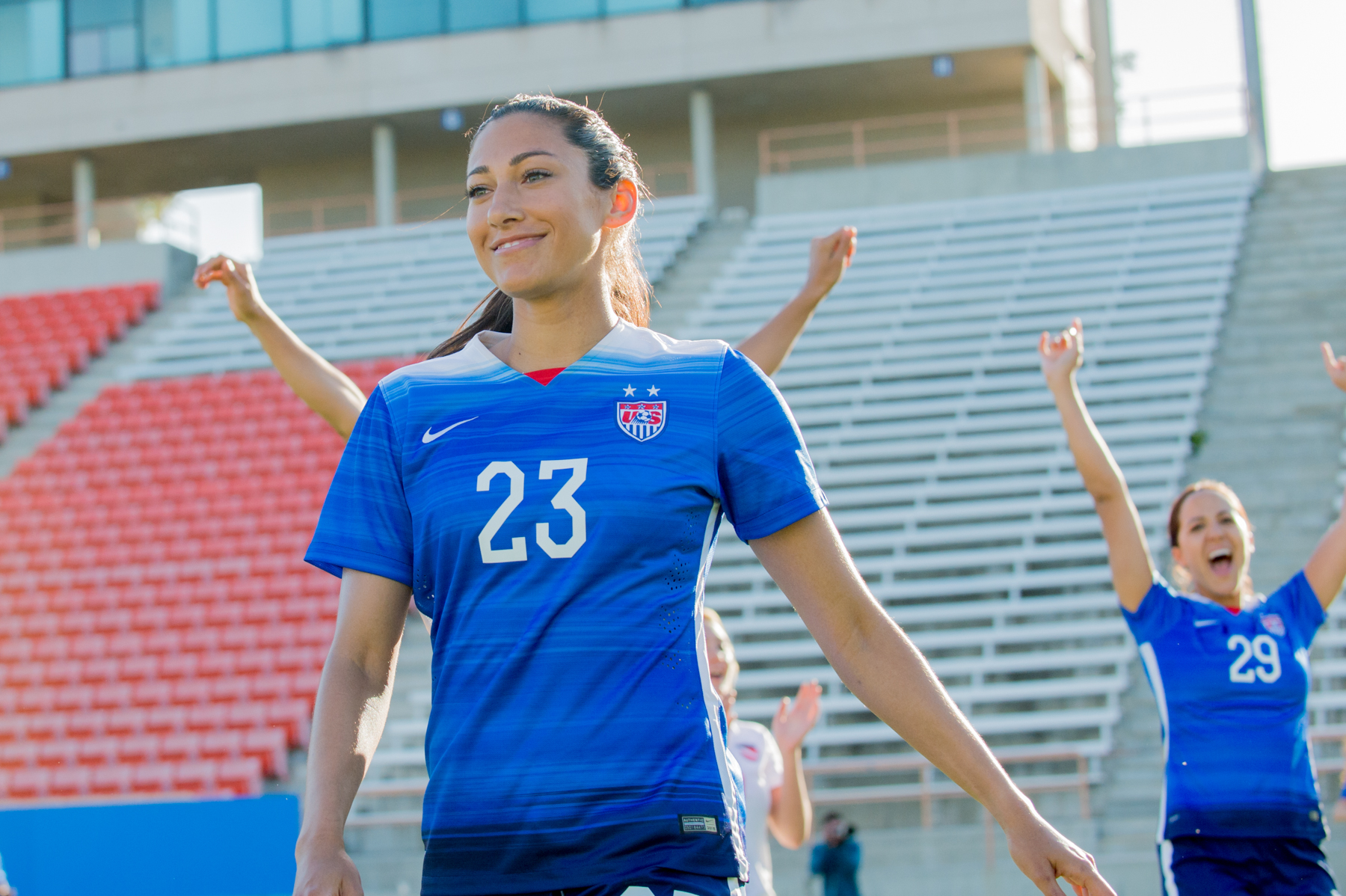 Work is seriously fun: "I often catch myself thinking, I have the best job in the world. I do what I love and my work is my passion."
And training doesn't feel like work: "I prefer to start my day with my training as it gives me so much energy. People sometimes think you'd be tired from working out, but I feel exhilarated post workout."
There's still a long way to go when it comes to compensation:  "I am one of a very small group of women [in sports] that does not need a second job to support myself. There are only a few teams around the world, club or national teams, that pay these wages. I am grateful for this, but feel an obligation to keep fighting for more for all our female soccer players."
And men's sports get so much more airtime because . . . society: "I think a lot of it comes from outdated, sexist gender roles in society. For decades, men have had an advantage in sports: More practice, more access, more money, more external motivation, and for that they are ahead. Sports is rich with history and it takes time to build the relationship between teams and fans that create reverence."
The team is always fighting to get women in the spotlight: "I feel a sense of responsibility to grow the game so that the day I leave it's better than when I came. We do that both by dedicating ourselves to our craft and creating the best product possible; and also by talking about feminism in sports. Some of the important issues are the worldwide stigma against women in sports and the lack of resources and respect given to the female game." And women should be playing on grass (not turf), because duh:  "For me, this isn't a debate. It's simply about treating female competition with respect and that includes the best resources."  
She could never have imagined such an awesome career:  "I didn't dream of professional soccer growing up, as that wasn't an option for women. I'm proud that today, young girls can look at our league and have something to play for in that way."
And winning isn't even the most important part of the game: "What I enjoy most is the daily struggle to be my best self and help my team be our best collective. The reward isn't winning, but growing."
So go out and seize the day. Every single day:  "Enjoy the journey! You are exactly where you are supposed to be. Embrace it and fight for where you want to be tomorrow."
(Images via EAG Sports Management)