Leave it to Chrissy Teigen to politely troll the 2018 Met Gala from the comforts of her own couch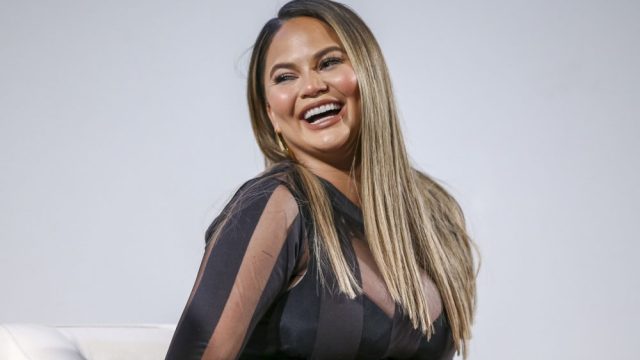 While many of the hottest names in fashion ascended the iconic steps Metropolitan Museum of Art steps for the 2018 Met Gala, there's one person noticeably absent: Chrissy Teigen. The Lip Sync Battle co-host and John Legend may have opted out of the Met Gala this year — Teigen is eight months pregnant with her second child — but that hasn't stopped her from getting in on the action from home.
After revealing earlier on May 7th that she and Legend were supposed to be attending the gala, but had to back out because it's too risky — Teigen's due in June — she began Instagraming her *own* Met Ball look anyway.
Teigen posted a photo of herself lying on the couch playing with a Nintendo Switch while Bravo plays on the TV in the background, which honestly, all of us who didn't score an invite to fashion's biggest night can relate to. She hilariously captioned the photo,"waiting for my turn on the carpet at #metgala!!!! always an honor!!!"
Same, Chrissy.
Then, taking a cue from the million celebrities sharing behind-the-scenes moments from their Met Gala prep on Instagram, Teigen walked us through her simple yet effective messy bun like the YouTube beauty guru we know she is. According to the hair icon, the look was achieved in just a few simple steps, including washing, towel drying, and using a hair elastic to keep her tresses in place. Can you believe?
But after cracking a few winning jokes, Teigen admitted that her posts were just in jest and she wished she could have been at the gala — and girl, we can only imagine.
Taking to Twitter — we know, Chrissy, we know and we're so sorry! — Teigen posted a screenshot of a text lamenting that the only year everyone is wearing "head shit" is the one year she can't go.
Considering this year's theme for the gala is Heavenly Bodies: Fashion and the Catholic Imagination, we can only imagine the stunning ensemble the couple would have come up with.
Naturally, the couple would 100% be on every best dressed list, with Chrissy stunning in an on-theme ensemble, complete with some out-of-this-world "head shit." And unlike the majority of guys who forgo the theme to bore us with a tuxedo, we're holding out hope that our reigning Jesus would come through for us. Legend could even be dressed in his Jesus Christ Superstar deep V-neck shirt and that Lord and Savior cozy sweater and we'd not only allow it, we'd applaud it.
While we missed Teigen and Legend on the Met Gala red carpet, we can't wait to see what stunning looks the couple comes up with next year. And Chrissy, we definitely support your wearing of "head shit" next year no matter what the theme is.