Chrissy Teigen's tweets from before the Tonys are making us cry with laughter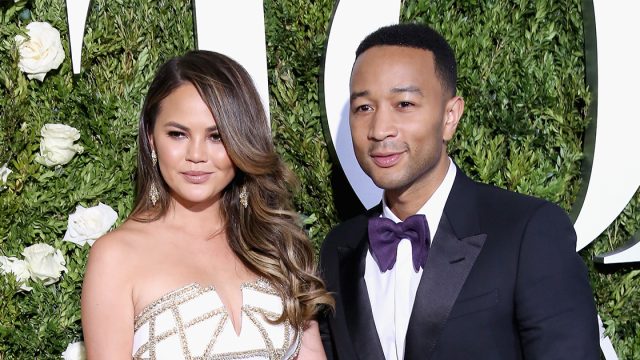 Demonstrating yet again that she should totally have her own stand-up show, Chrissy Teigen tweeted about the Tony Awards last night, and we're crying with laughter.
Chrissy was attending the ceremony with her husband John Legend, who won an award for his work as an associate producer on Jitney, putting him just one letter away from an EGOT (Legend has Grammys, an Oscar, and a Tony, so all he needs is an Emmy, and he'll join that illustrious and exclusive club).
Sharing her excitement about her hubby's win, she took to Twitter.
"John won a Tony!!! He has a GOT!," she wrote.
https://twitter.com/udfredirect/status/874091328300351488
However, it was Chrissy Teigen's tweets from earlier that had us laughing the most.
Chrissy shared the reason why she was in New York, and it seems that she (jokingly) has had a last minute career change.
"I am in new york for the Tony's because I am a famous broadway actress and it makes sense [sic]," she wrote to her 5.72 million followers.
Stepping into her newfound role as Broadway legend, Chrissy began exhibiting some old-school diva behavior.
When the Tony Award Twitter account shared a photo of the inside of the venue, Chrissy shared her mock indignation.
"WHY HAS MY SEAT RECENTLY BEEN SAT IN!? As one of Broadway's biggest stars on Broadway's biggest nights I am appalled," she joked.
https://twitter.com/udfredirect/status/873965577051807744
Indeed, becoming a Broadway star wasn't enough for Chrissy. No, she also wanted to try her hand at becoming at photographer, too, and was caught snapping away in the press room with a rather long-lensed camera.
Ultimately, though, the star ended up ordering some Chinese food from somewhere that may or may not have killed her.
https://twitter.com/udfredirect/status/874104551334453249
We love seeing how much fun Chrissy Teigen has at all these fancy events, and basically how real she is about it all. We also love how, at the end of the day, she's still going to order Chinese food. What's more, we want to send our congrats to John Legend, too! Just gotta get that Emmy, John!