Chrissy Teigen's Father's Day post for John Legend is giving us heart eyes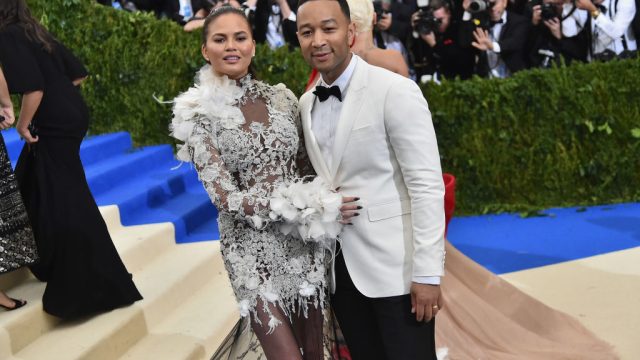 Is there anyone cuter than Chrissy Teigen when she gets mushy about the love of her life? Nope. Just check out Teigen's Father's Day post for John Legend, which is currently warming our hearts.
Just as John has said that having baby Luna brought him closer to Chrissy, Chrissy expressed that watching John become a father has made their love grow, too. This little family is beyond adorable.
"To see him go from big goals to big ideas to big wins and the love of so many makes me so so happy. 10 years ago, I didn't think he could get better, then I got to see him as a father," she wrote. "I don't know how or why Luna, my family and I got so lucky in this life but I will stop questioning and just be grateful. I love you so much, John. Happy Father's Day."
Seriously, get Teigen and Legend a room.
Or don't, because we sort of love watching this super happy, loving, respectful relationship. Recently, Teigen explained that she's thinking about having more children with Legend. She told Marie Claire, "I would definitely adopt or have foster children. But I loved being pregnant. Maybe I should be scared [of having PPD again], but I don't know. It couldn't be any worse than it was  — could it?"
And yes, Teigen and Legend work to keep things steamy. It is totally possible to be a parent and still have a great physical relationship with your partner (but it's not an easy thing to remember sometimes). Teigen recently recounted that she and Legend were having a funny conversation with friends and she realized, for the first time ever, that her husband knows what her butthole looked like.
She explained that John kindly reminded her that any time you're ever in a "doggy style" position, everything is on full display. "And John says, 'Are you kidding? Every time anyone does anything doggy style, you see a butthole. I see it every time,'" she explained.
Her mind was blown. Looks like John not only impresses her with his dad skills, but also his ability to teach her something new every day.