Chrissy Teigen's essay about postpartum depression is all about how sneaky your emotions can be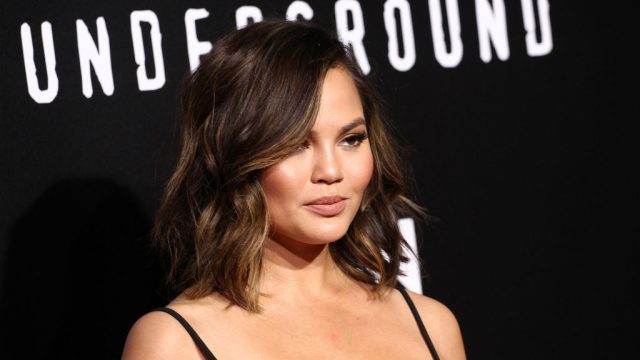 Ever since giving birth to baby Luna, Chrissy Teigen has been making moms (and fans) LOL with her candid and honest mothering insights. But in the new issue of Glamour, Chrissy Teigen gets serious about postpartum depression and how hard it was for her right after her gorgeous daughter was born, even as she was making us all laugh about her breast pump woes.
Actually, she writes in her essay, even she didn't really know she had postpartum depression, and was scared to talk about it in public since, as she says, "everything becomes a thing."
Teigen writes that she had an easy pregnancy and when she went back to work on Lip Sync Battle four months after giving birth, it was the best situation a mom could imagine. They had a nursery in her dressing room. She got pump breaks. She marveled at her daughter. Literally, she writes, there was no reason for her to be "depressed," so she didn't think anything was wrong. But as anyone who deals with mental health issues, including postpartum depression, your circumstances don't have anything to do with it.
"But I was different than before. Getting out of bed to get to set on time was painful. My lower back throbbed; my ­shoulders — even my wrists — hurt. I didn't have an appetite. I would go two days without a bite of food, and you know how big of a deal food is for me. One thing that really got me was just how short I was with people."
She writes about not leaving the house for days unless she had to go to work. So every time we saw her out, she had already been on set and showered and made up by someone and didn't have to do it. She slept on the couch and kept robes in the pantry so she wouldn't have to go upstairs to change. She was nauseous all the time and couldn't get started on her second cookbook (that's a common symptom of anxiety).
Finally, she went to the doctor and he ran down a list of symptoms. BOOM. She went on an anti-depressant, and although things are still tough (and there are days on the couch), she has a plan of attack. Which is really the best anyone can do. 
Teigen writes in her essay that when she wrote to her producer on Lip Sync Battle to tell her, her boss said, "Uh, yea, we noticed." Her cook book publishers totally understood and gave her some time. That's the thing about depression: Once you get past being scared to talk about it — or ignoring it — it's manageable  and the people who love you are there for it. (And if they aren't, find a new friend.)
For high energy, extroverted people, admitting that you're depressed can be hard. Plus, as Teigen jokes, all she has to do for work is "wear a unicorn hat and shoot a money gun." But depression doesn't discriminate. Teigen writes,
"I also just didn't think it could happen to me. I have a great life. I have all the help I could need: John, my mother (who lives with us), a nanny. But postpartum does not discriminate. I couldn't control it. And that's part of the reason it took me so long to speak up: I felt selfish, icky, and weird saying aloud that I'm struggling. Sometimes I still do."
Asking for help is never selfish or icky and depression looks like a lot of different things. Teigen's experience is a testament to that. Don't be afraid to listen to your body or ask for help. There's nothing to be ashamed of.