Chrissy Teigen channeled her inner Gwyneth Paltrow with a vaginal steaming and face mask moment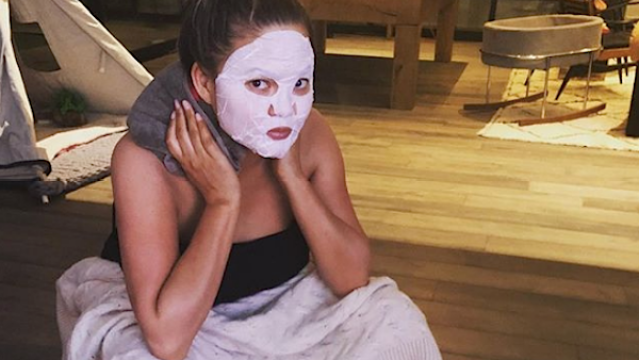 Chrissy Teigen channeled her inner Goop goddess with a vaginal steaming, and the candid Instagram photo proof is everything. In her signature messy top bun, the model and Lip Sync Battle host posted a photo of herself undergoing the ultimate means of self-care: sheet mask, heat pad, and vagina steam. Chrissy hilariously captioned the Instagram, "I don't know if any of this works but it can't hurt right? *vagina dissolves*"
Chrissy's famous BFFs responded accordingly, with Gabrielle Union writing, "This is why we are friends," and Khloé Kardashian even chimed in, writing, "Living your best life."
So what the heck is a vaginal steaming anyway?
We're so glad you asked. Popularized by actress and Goop founder Gwyneth Paltrow, vaginal steaming is a spa treatment where participants squat over steaming water containing health herbs. Paltrow first wrote about her vaginal steaming venture in 2015 on Goop when she attended a luxurious spa retreat. In a now-deleted post due to controversies, she described sitting on a "mini-throne" where a "combination of infrared and mugwort steam cleanses your uterus, et al."
In a 2016 interview with The Cut, the lifestyle guru described her first v-steaming experience, saying:
"I was like, This is insane. My friend Ben brought me and I was like, 'You are out of your fucking mind. What is this?' But then by the end of it, I was like, 'This is so great.' Then I start to do research, and it's been in Korean medicine for thousands of years and there are real healing properties."
As with Paltrow's advice for putting jade eggs in your vagina, the backlash was swift. Gynecologists and health experts weighed in with the opinion that no, honey, you shouldn't steam your damn vaginas. But come on, it wouldn't be a proper Goop post without the occasional outlandish wellness tip. And now, Chrissy is sharing her experience.
You do you, Chrissy. Go ahead and channel your inner Gwyneth. We doubt your vagina will actually dissolve.