Chrissy Teigen is a "strong, proud, salad-making woman" in her latest Instagram, and it's hilariously relatable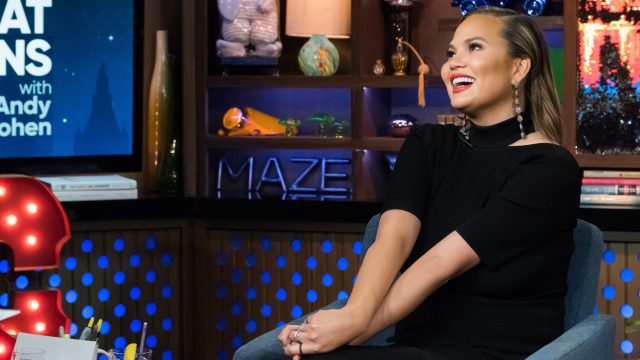 When it comes to social media, we've been ready to crown Chrissy Teigen queen since, well, always. From showing off her maternity shapewear and boob tape to offering to pay gymnast McKayla Maroney's $100,000 fine for breaking a non-disclosure agreement by speaking out about her abuser, she's unapologetically herself in the absolute best way. And in her latest Instagram post, Teigen reminds us that you can be funny and totally on point.
The photo shows Teigen topless in front of her kitchen counter. Though she's showing off her pregnancy body, her post reminds us that even celebs struggle with body image problems. She used a few strategically placed salad emojis to keep the photo PG-13, and she captioned it, "plz don't shame me I am a strong proud salad making woman just being natural and trying to live my life."
We love how much Chrissy inspires us to embrace our true selves — like when she celebrated a few gray hairs or stressed about her period pimples — and we cannot stress her message enough. Thanks to social media, there's a lot of pressure out there to be perfect. However, we love how Chrissy isn't afraid to show her own insecurities. It's funny, it's inspiring, and it's so refreshingly real.
Too many women struggle with body image, and we're glad to see someone like Chrissy Teigen embracing her true self.
She sets the perfect example of why you should forget the haters, live the life you love, and practice self-care. (Because, yes, making a salad in the nude is *totally* self-care.)
Even more important? Chrissy's post is a subtle yet funny reminder that cyberbullying isn't acceptable, and that even celebs are vulnerable to it. Unrealistic beauty standards and body image issues can actually impact our health, and we never want to shame anyone for embracing their natural beauty.
You do you, Chrissy. We love you for it.