Chrissy Teigen skipped John Legend's performance at the Billboard Music Awards to go on a girls' night out
We know that she 100% supports her husband and his career, but instead of going to watch John Legend perform at Sunday's Billboard Music Awards, Chrissy Teigen went on a girls' night out, and it looked EPIC.
Given that the Billboard Music Awards certainly looked like one heck of an event, what with Cher (!) performing two of her biggest hits, Céline Dion bringing the house down with a special performance of "My Heart Will Go On," and Nicki Minaj S-L-A-Y-I-N-G her medley performance, you'd be forgiven for feeling a bit baffled that Chrissy Teigen would skip the opportunity to see all that IRL. But when you're in Las Vegas and your girlfriends call, sometimes you gotta prioritize.
Taking to Twitter, the model, presenter, author, and mom wrote that she was actually with her cousin and her niece watching the awards, adding that she was "hanging out with them and not trying to force my back into a dress."
https://twitter.com/udfredirect/status/866454045786951680
In fact, Chrissy also had other plans that night…going to see Magic Mike Live. Sharing pictures and videos of her night out on to Snapchat, Chrissy looked like she was having the best time ever. She even shared a rather suspect and totally NSFW blowup doll…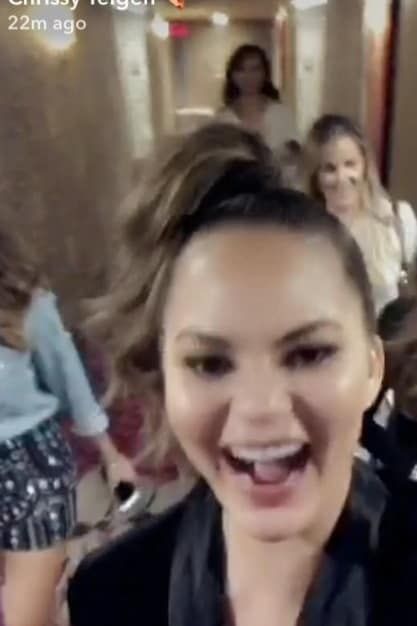 Before that, however, the star shared a hilarious video on to Twitter of herself in a towel, mocking the best-dressed lists that crop up around fancy awards shows.
https://twitter.com/udfredirect/status/866458354800926721
After it was reported that Chrissy had, in fact, skipped John's performance, the star shared an article, writing about her decision to see Magic Mike:
"And it. Was dope."
https://twitter.com/udfredirect/status/866688759433244672
Of course, because masculinity is so fragile and social media knows no bounds, some people on Twitter criticized the star for skipping her husband's performance.
Responding, she wrote, "Or, we have been together 10 years and i'm on tour with him and have probably been to…..2000 john shows. methinks you are projecting." BURN.
https://twitter.com/udfredirect/status/866865170529869828
We love that Chrissy isn't afraid to live her life the way she wants to, and doesn't apologize for it, either. Of course she's seen John Legend perform many times, so spending some quality time with your friends seeing Magic Mike Live (SO. JEALOUS) is totally fine, and probably well deserved, tbh.
Seriously, don't stop being you, Chrissy!