Chrissy Teigen posted a shirtless pic of her "mom bod," got real about her struggle with post-baby body confidence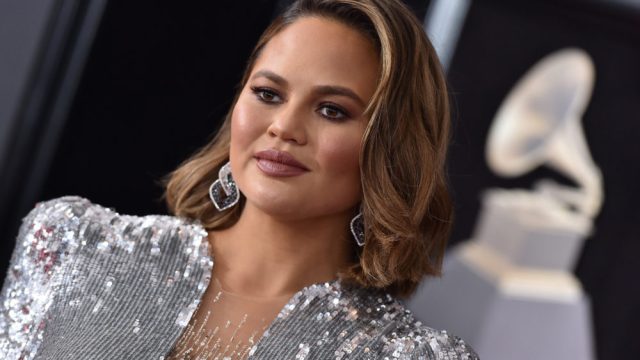 The world has collectively been in love with Chrissy Teigen for years now, and we're constantly finding new reasons to admire her. The latest involves the model and activist getting real about accepting her changing body after giving birth to two children, as well as showing off her post-baby stretch marks in all their glory.
The Lip Sync Battle host is currently vacationing in Bali with husband John Legend and their two adorable kids. On Monday night, July 31st, Teigen posted a photo of her "mom bod" to remind us that our bodies are constantly changing, and that's totally okay. She pointed out that not everyone on Instagram has a six-pack and that it's important to not play the comparison game.
"Instagram is crazy. I think it's awesome people have killer bodies and are proud to show them off (I really do!!) but I know how hard it can be to forget what (for lack of a better word) regular ol' bodies look like when everyone looks bonkers amazing," Teigen tweeted.
The 32-year-old, who gave birth to her and Legend's second child—a baby boy named Miles—in May, explained why she decided to share the unedited video of her post-pregnancy body, and hopes her openness helps her followers with their own confidence.
Teigen filmed her thighs and stomach in their natural state, as well as zoomed in on her stretch marks.
She also posted a shirtless mirror pic.
Teigen admitted how hard it can sometimes be to feel body confident, and said that she's far from loving every inch of herself right now.
"Also, I don't really call this 'body confidence' because I'm not quite there yet. I'm still super insecure," she continued. "I'm just happy that I can make anyone else out there feel better about themselves."
We love you, Chrissy Teigen. Please never change.