Chrissy Teigen shared a "family" holiday photo, but there's something not quite right about it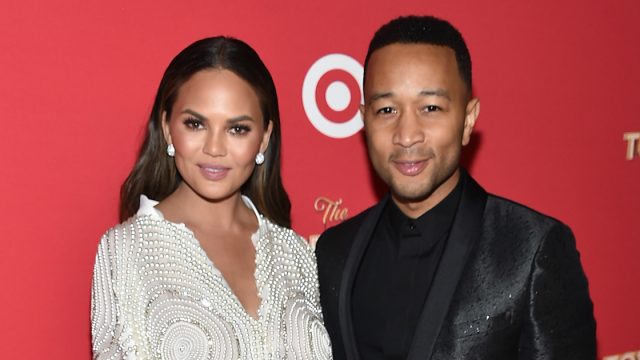 If you hadn't guessed it by now, we love seeing cute family pictures of Chrissy Teigen, John Legend, and baby Luna. However, their latest "family" picture is absolutely hilarious mainly because there's something not quite right about the scene…
While Chrissy has been busy sharing cute videos of baby Luna waving, John Legend has been away in Europe promoting his latest album Darkness and Light, which includes the emotionally charged "Love Me Now."
Given that John is currently abroad, Chrissy is having to do some things solo, like taking Luna to visit non-other than Santa Claus in his grotto. However, when it came to taking that all important first holiday picture, she had to *ahem* improvise a bit…
Check out her "family" photo below and see what we mean.
https://twitter.com/udfredirect/status/809135676620992512
"When your husband is in Paris but you gotta get your Santa on," she wrote.
Omg, we can't stop laughing! In fact, we're pretty impressed with Chrissy's ingenuity. Rather than leave her husband out of the picture, she imagined he was there was a paper mask of his face, which totally makes sense.
John, however, might not have seen the funny side. Taking to Twitter, the 37-year-old musician wrote on Twitter: "Savage."
Chrissy just pointed out that they were both just missing John.
https://twitter.com/udfredirect/status/809136470162284545
Chrissy also shared another cute picture of Luna with Santa and we just can't get enough of it.
This time the star chose to Instagram the moment, which appears to show Luna attempting to either grab Santa's glasses or squish his face. Either way, it's completely and utterly adorable.
Hopefully John won't be away for too much longer (seriously, John, Christmas is in 10 days, you need to get a move on) as it'd not only be a shame for him to miss Luna's first holiday experiences like dressing the tree and playing in the snow (although, pretty sure it NEVER snows in California). Regardless, we are finding this picture 100% hilarious!
[H/T Refinery29]