Chrissy Teigen showed us the pretend cry-face she makes when John Legend plays "All of Me"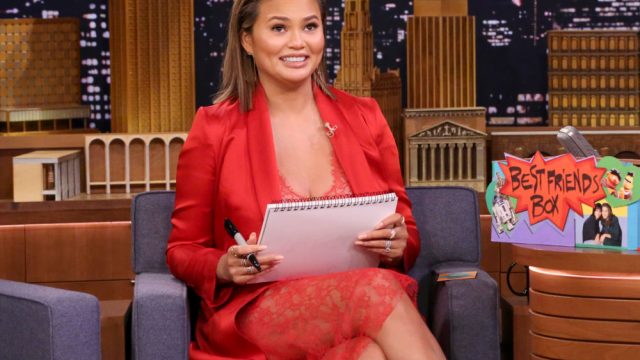 Chrissy Teigen appeared on The Tonight Show Starring Jimmy Fallon on January 30th, 2018 and the entire conversation was her Twitter feed come to life. She talked about trolling red carpet reporters by pretending to not be pregnant. She told the story of how she greeted Beyoncé by calling her "my lady" at the 2018 Grammys. And she got real on having to pretend cry whenever her husband plays "All of Me" at a concert.
We've never really thought about the pressure of being the subject of a popular love song. John Legend's classic love ballad "All of Me" was written about Teigen — the entire video is just the two of them being excruciatingly in love. Even though the song was released in 2013, has been featured as the first dance song at a zillion weddings, and has been performed at, like, every Legend concert, Teigen says she STILL has to look moved when she hears it.
"When the song got popular, I'd been hearing it for a year and a half. It's a nice song, I like it a lot, but I've heard it for a long time," Teigen told Fallon. "I swear, even now, if I go to a show of his tomorrow and he sings it, everyone turns to look and see if I'll start crying. And then I have to pretend. What am I supposed to do?! Because I look like a brat if I don't look emotional about it."
https://www.youtube.com/watch?v=GAdWLSSjbIM?feature=oembed
Teigen then demonstrated the faux emotional expression she does whenever Legend performs the song.
It's funny that Teigen has to pretend to be moved by the song, because once upon a time she was like "Hey, it's me from 'All of Me.'" (In a funny way, of course, because she refuses to not make us laugh on Twitter.)
https://twitter.com/udfredirect/status/541073041091219456
At any rate, we just rewatched "All of Me" and now WE'RE crying.
https://www.youtube.com/watch?v=450p7goxZqg?feature=oembed
This song is just too good. Teigen, girl, you're gonna be fake crying for a long time — this song isn't going anywhere soon.