Chrissy Teigen Posted a New Video to Confirm She's Pregnant
"Look at this third baby...oh my god."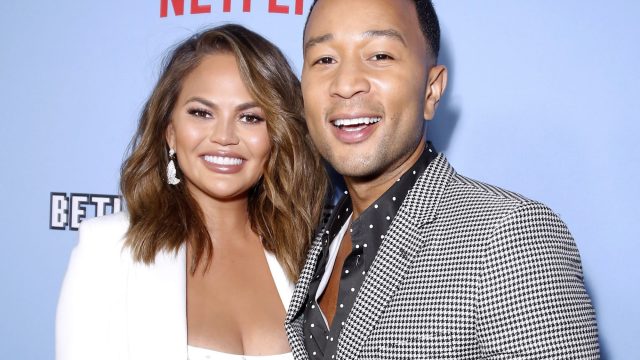 Update, August 13th, 2020, 8:45 a.m. ET: It's official! After John Legend and Chrissy Teigen sent fans in a frenzy by seeming to reveal her pregnancy in Legend's new "Wild" music video, Teigen has confirmed the news herself. In a new video posted to Twitter, the cookbook author and model revealed her growing stomach to the world.
And in case that visual in her leggings weren't enough, she stated it plain and clear: "Look at this third baby shit," she said, holding her stomach, "What? Oh my god."
See her Twitter post revealing the happy news, which was posted late night, August 13th, below:
So, it's happening, people. Luna and Miles are getting a little sibling. We're so excited for Legend and Teigen's growing family!
Original post, August 14th, 2020: John Legend just dropped his new music video for "Wild," and it's straight-up a romance story about his wife, Chrissy Teigen. They're riding around in a convertible, making out on the beach, frolicking in the waves—and yes, fighting, as any long-term couples are wont to do. But what really has people's eyes bugging out is that shot at that end, in which Legend stands behind Teigen as she appears to cradle her stomach with both hands.
Um, is this some musical hint that Teigen is expecting their third child? Some people definitely think so.
There was a real "family" element to these ending seconds of the "Wild" music video. Their children, Luna and Miles, appear to bounce around on the beach with their mom and dad right before that final shot. And after announcing that the video was live on YouTube, Teigen posted a simple tweet with just the smiley, blushing emoji.
Needless to say fans responded in droves with their Chrissy Teigen is pregnant again theories and questions.
Before the video debuted, Teigen joined her husband for a YouTube session in which they talked about how Legend's music, and accompanying videos, have been following their family's growth and journey. And, ahem, "next chapter," does seem to be hinting at something.
"It's been chronicling our family's growth and our journey and we're so happy that this video is the next chapter," they said, according to PopSugar.
Watch the video below, and keep your eyes open on those final moments, to see for yourself what you think:
Back in 2019, Teigen lightheartedly posted to Twitter about her plans for kids alongside a picture of young Miles. (Who BTW is a carbon copy of dad Legend.)
"when I had zero babies I wanted 4. Then 1, I wanted 3. Then 2, I'm good with 2. just posting this to look at when I'm pregnant with my third," she wrote.
It's important to note that neither Teigen nor Legend have confirmed any pregnancy news at this point, and the model did have breast implant removal surgery last month, which may confuse the timeline. However, we have so much fun following Luna and Miles (and the whole fam!) that we'll definitely be keeping tabs on them for any forthcoming announcements.