Chrissy Teigen Opened Up About Her Pregnancy Loss In A Heartbreaking Letter
She also expressed gratitude for everyone who's reached out to her over the past month.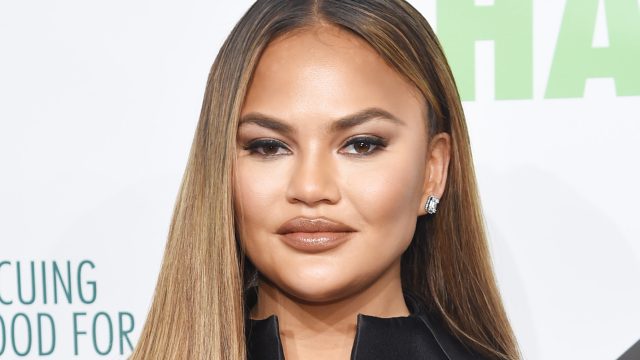 Chrissy Teigen just opened up about her pregnancy loss for the first time since announcing the tragic news in September. The cookbook author and model published an essay on Medium today, October 27th, promoting it on Twitter with a simple "Hi"—her first tweet since October 1st, when she shared that she and husband John Legend were driving home from the hospital with no baby.
Teigen opened the essay by explaining that, understandably, she had no idea when she would be ready to write about the experience or how she would start, but that, "it feels right to begin with a thank you."
"For weeks, our floors have been covered in flowers of kindness. Notes have flooded in and have each been read with our own teary eyes," Teigen wrote. "Social media messages from strangers have consumed my days, most starting with, "you probably won't read this, but…". I can assure you, I did."
She shared that she felt overwhelmed by strangers' kindness, nothing that she wished she could thank everyone individually, but that she knew she was "in no state" to do so. She recounted the pain she felt when first learning that her unborn son, who she and Legend had named Jack, wouldn't make it.
I cried a little at first, then went into full blown convulsions of snot and tears, my breath not able to catch up with my own incredibly deep sadness. Even as I write this now, I can feel the pain all over again, Teigen wrote.
In the letter, she also offered an explanation—though she owed it to no one—about her decision to document her family's emotional time in the hospital with photos, which have garnered some controversy.
"I had asked my mom and John to take pictures, no matter how uncomfortable it was. I explained to a very hesitant John that I needed them, and that I did NOT want to have to ever ask. That he just had to do it. He hated it. I could tell. It didn't make sense to him at the time," Teigen explained.
She added that she knew she "needed" to know of those painful moments in the hospital forever, "the same way I needed to remember us kissing at the end of the aisle, the same way I needed to remember our tears of joy after Luna and Miles. And I absolutely knew I needed to share this story."
Teigen also addressed the backlash she received when sharing these photos on her Instagram. "I cannot express how little I care that you hate the photos. How little I care that it's something you wouldn't have done. I lived it, I chose to do it, and more than anything, these photos aren't for anyone but the people who have lived this or are curious enough to wonder what something like this is like," she wrote.
After depicting more examples of her journey through grief ("I get mad at myself for being too happy") in the letter, Teigen returned to a message of gratitude for all those who have supported her over the past month. "The moments of kindness have been nothing short of beautiful. I went to a store where the checkout lady quietly added flowers to my cart. Sometimes people will approach me with a note," she wrote, adding that the worst part was knowing that many women in similar situations don't receive that level of empathy.
"I beg you to please share your stories and to please be kind to those pouring their hearts out. Be kind in general, as some won't pour them out at all," Teigen wrote.
She signed her essay "with so, so, so much love," and we are sending it all back to her and her family—and all those who have been through similar heartbreak.
Gabrielle Union, who has opened up in the past about having multiple miscarriages, thanked Teigen for sharing her story. "We shouldn't have to suffer in silence and everyone who truly understands is incredibly grateful for this and you, always," she wrote."
Read Teigen's full essay here.