Chrissy Teigen's flight turned around mid-trip, and she live-tweeted the whole bizarre saga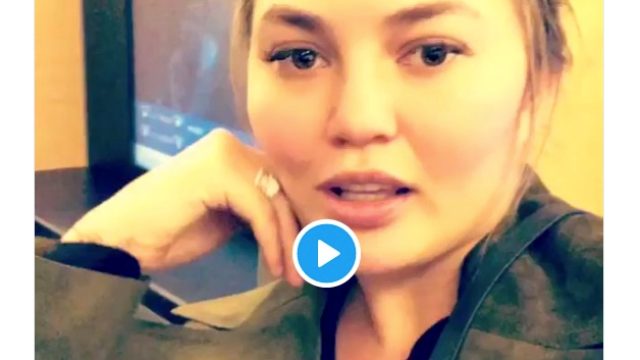 Holiday travel is known for getting crazy, but this one's a doozy. Last night, December 26th, John Legend and Chrissy Teigen's Tokyo-bound plane turned around mid-flight after four hours in the air. That's right. They spent eight hours on a plane in total only to end up exactly where they started. And lucky for us, Chrissy live-tweeted the entire debacle.
(Side note: This is slightly ironic seeing as Teigen had a Pan Am-themed birthday party on a faux airplane a few weeks back). But anyway, fasten your seatbelts, because this is genuinely one of the most bizarre travel stories we've ever heard.
Basically, the Tokyo-bound flight had been in the air for four whole hours when the pilot announced that they would have to turn around and return to L.A. Not because of bad weather. Not because of technical difficulties. They had to turn an entire plane full of people around because it turned out one of the passengers was not supposed to be on the plane. No joke.
Chrissy outlined the entire scenario for her 9.25 million Twitter followers in real-time, and here are some of the highlights.
Then fans started tweeting her the live map of the plane's path, and Chrissy was even more confused.
Naturally, Chrissy had some questions…and tbh, so do we.
Seriously, how did this happen?!
Finally, they ended up back at Los Angeles International Airport, but the saga wasn't over just yet…
During this time, Chrissy was having fun retweeting fan photos, like the person who photoshopped a shirt for her that says "I survived LAX to LAX."
Oh, and to add to the craziness, it turns out the police were called in to interview the passengers sitting near the person who had been on the wrong plane. The plot thickens…
In case you were worried about Chrissy's quarantine room, it seems she was at least well-fed.
When fans pleaded for more information, Chrissy said she simply didn't have any to give.
Finally, it seemed that all was well, because they were getting on another flight.
Although this one was Star Wars-themed, it seems.
She quickly addressed some wild conspiracy theories that she and John were trying to flee the country to avoid being arrested…
And of course, the most relatable Tweet of them all:
While that entire saga sounds like a total nightmare, we're thankful that Chrissy took the time to live-tweet and bring us all in on her journey to nowhere. We hope John, Chrissy, and the other passengers are safely en route to Tokyo. They deserve it.