Chrissy Teigen's hilariously relatable video about spilled breast milk is why we stan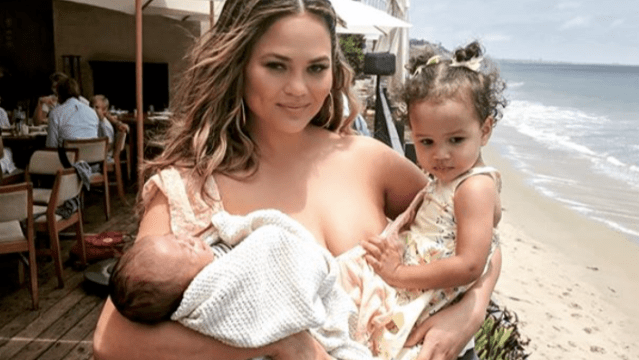 Chrissy Teigen is the best damn mommy blogger there is. The mom/model/our future BFF shared a series of Twitter videos that show her scooping her spilled breast milk into a bottle. In the video, Teigen and a friend (her mom, maybe?) use turkey basters and a syringe to save whatever droplets of spilled breast milk they can.
"I am so jealous of people with plentiful boobies," Teigen tweeted, along with, "every drop counts in this house." Someone else might say, "there's no use crying over spilled milk," but if you're not producing a lot of breast milk to begin with — you are allowed to cry (and tweet about it) as much as you want.
A fan responded to Teigen's video with a link to Medolac — a place to buy donated breast milk — which is a fantastic option for moms in the same boat as Teigen.
As always, we love Teigen's candid baby stories from the frontlines, because when more women share their stories about motherhood, breastfeeding, or low milk supply — it helps another mom in a similar boat feel less alone.
Teigen has always been this honest about breastfeeding. When she gave birth to Luna in 2016, she admitted that she could not get the hang of it.
"I just think it's so funny. Sometimes I'm Googling how to do it better, Teigen told People. "I'm like, 'Is it working? Is it taking? I don't think I'm feeling enough pain!' You just get so confused about how it's supposed to feel, and as hard as anyone said it was, I feel like it somehow managed to be harder.
Bless this relatable queen. Also, start a blog, please!