Chrissy Teigen left her Nintendo Switch at a hotel, and the internet came to her rescue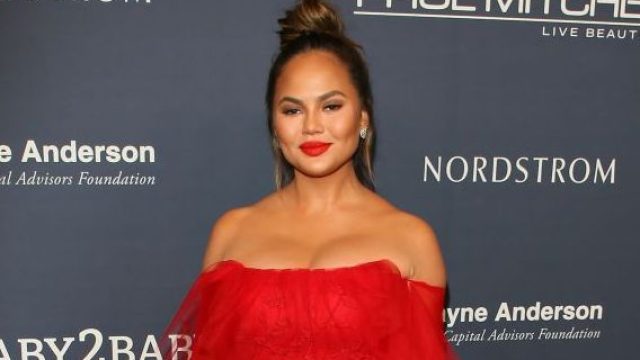 There's never a dull moment with Chrissy Teigen. Lately, the hilarious supermodel and cookbook author extraordinaire has been obsessed with her Nintendo Switch. But just days after she announced that she finished playing Mario Odyssey, Teigen accidentally left her Nintendo Switch at a hotel and needed a Thanksgiving miracle to get it back. Fortunately, the internet came to her rescue.
Because of course it did. Teigen, who is pregnant with her second child, has been showing her love for her Nintendo Switch on her favorite social media platform: Twitter. Over the past month, she's posted her ongoing commentary while playing Mario Odyssey, so fans know how hooked on the game she was. In early November, she tweeted "finally" about Princess Peach's wedding announcement. Then, about three weeks later she tweeted, "Mayor pauline is at the wedding??? fake ass."
Needless to say, fans were on board with Teigen's Mario Odyssey obsession. After she beat the game, Teigen tweeted, "Just finished mario odyssey. what do i do now? go back and find all the moons? discover secret caves? beat my old times? take care of my daughter?" Luckily for her, a fan revealed (via Twitter, of course), that she has more "moons" to collect. She never fails to entertain, that Teigen.
But only two days after learning she has more Mario Odyssey to play, Teigen dropped the announcement that likely shook her fans to their cores.
Yep, Teigen lost her Nintendo Switch while visiting Springfield, Ohio.
Everyone knows that leaving your belongings in a hotel room — especially belongings as valuable as a Nintendo Switch — means you'll probably never see them again.
Teigen's followers quickly pointed out that she had previously lost a Nintendo device in Beaverton, Oregon.
And fans sure do know how much Teigen used that Nintendo Switch.
In fact, someone from Springfield decided to help out with Teigen's holiday miracle.
Of course, Teigen being the kindhearted fan-favorite that she is, expressed her deep gratitude for the stranger's kindness.
Today, November 25th — only one day after she tweeted that she'd lost the Nintendo Switch — Teigen posted a video of it returned, safe and sound. John Legend opened it for his queen, who we all worship. In the background, you can hear her excited "Yay!"
Now, Teigen can get back to playing her Nintendo Switch anywhere and everywhere.
Go get those moons, Chrissy.