Chrissy Teigen was mommy-shamed for her breastfeeding pic, so she casually (and hilariously) took down her hater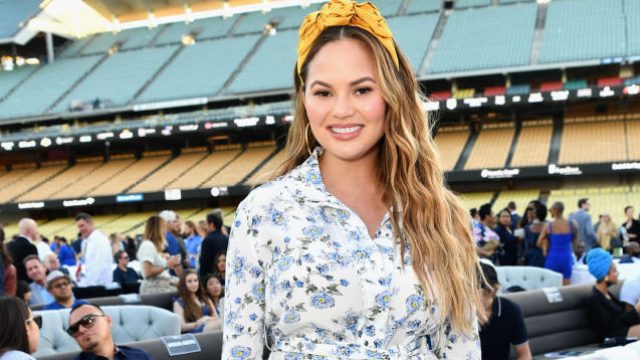 Chrissy Teigen is a legend (and not because she's married to John Legend, although that's a perk). Teigen is an MVP of Twitter, notably due to her iconic clap-backs. Not only does Teigen point out the banality, hypocrisy, and unnecessary qualities of politicians, but she also claps back to the trolls who "@ her" on Twitter. Nobody is safe from the celeb's Twitter-strikes, and this time, Teigen responded to being mommy-shamed for a breastfeeding photo.
But first, we have to say: how dare you shame any woman for posting a picture of themselves breastfeeding? And second, how dare you shame Chrissy Teigen for breastfeeding? Or, well, Chrissy Teigen for doing anything?
"Christ in a hand basket. Menstruating, childbirth and sex are natural, too, but that doesn't mean I want to see pics of it and/or celebrities like @chrissyteigen taking a bath or nursing. We get it," Twitter user @catclause tweeted on July 7th. false
While it's not totally certain, @catclause probably wrote her Tweet in response to Teigen's Instagram post from the same day. In the snap, Teigen is breastfeeding her newborn son, Miles. Luna stands by while Teigen also pretends to breastfeed Luna's baby doll. LOL.
Well, Chrissy didn't show up to get mommy-shamed.
She refused to hold back, and responded with a hilarious and relatable clapback to end all clapbacks: "I don't care to see grainy fireworks, coachella selfies or infinity pool pics but i let people live. calm your tits and scroll on by," Teigen tweeted in response.
In other words: Mind your business.
Any mother deserves the right to parent in their style without getting mommy-shamed. And posting a sweet photo like the one Teigen shared should go as un-criticized as everyone's Fourth of July firework photos. Celebrity moms constantly receive criticism from people regarding their parenting skills, and Teigen knows that better than anyone.
Seriously though, Teigen's photo of herself nursing her infant and a fake baby doll while her toddler watches could hang in a museum. It's an honest portrait of motherhood. Fortunately, it doesn't seem like Teigen will change her social media posting habits anytime soon. On the morning of Sunday, July 8th, she posted what looks like another pre- or post-breastfeeding pic on her Instagram Story. Suck it, haters. Literally.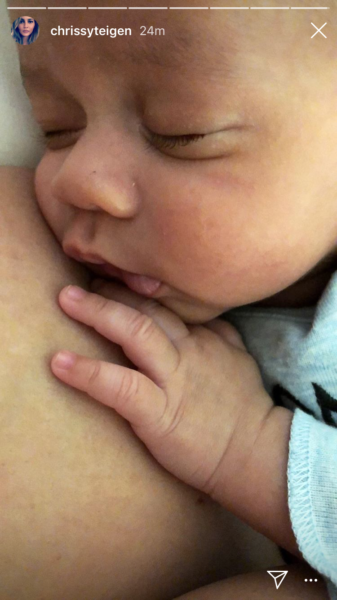 Teigen also offered another brilliant clapback to breastfeeding criticism.
In another tweet, she responded to a post that has since been deleted. Teigen's tweet reads, "Nah. Just chillin. Posting daily life like I do with anything else. Cooking, playing with dogs, etc. You make feeding a baby big deal because you got weird titty issues."
Teigen's so right that criticizing breastfeeding reflects more of someone's own biases than anything else.
Breastfeeding is a completely natural and healthy practice, and moms don't deserve any of the shame they often receive for doing it in public. Teigen is helping to reduce some of the taboos about breastfeeding, and she will definitely continue to live her truth and make us laugh while she's doing it.