Chrissy Teigen got mom-shamed again, and honestly, this is just exhausting
Fans of Chrissy Teigen are always excited when she takes to Instagram to share new content with her followers, especially when it's an adorable video or photo of her children. However, because the model is so honest about her parenting, trolls always seem to find a way to shame her. Case in point: When Teigen shared footage of her and husband John Legend's son Miles taking his first real steps in her bathroom on Tuesday, July 30th, she had to fend off angry commenters.
Though most celebrated his big milestone, other users were quick to mom-shame Teigen—and seriously, it's unfair that she needs to defend herself from the parenting police every single time.
In the video, little Miles holds onto a marble bathtub as a woman—who looks like Teigen's mother Vilailuck Teigen, though it's not 100% clear—places him in a position so he can walk on his own. The 14-month-old then almost immediately makes his way toward his mom and sister, Luna, taking a few wobbly steps before falling to the floor. But no harm, no foul, because baby Miles clapped and giggled as everyone applauded his achievement.
It's truly a heartwarming moment for the family, who now officially have a walking toddler on their hands. Teigen even joked about being "screwed" in video's caption.
Check out the adorable video of Miles walking, below:
The moment was essentially ruined by people who criticized Teigen for letting her son walk so close to the edge of a marble bathtub. But the great thing about Teigen is that she doesn't care about what they think. In fact, she's found a new way to deal with trolls who believe they know better than she does about raising her kids.
"I have to block like 20-30 people every time I post my kids," she wrote in the comments. "So many dummies. Is someone forcing you at gunpoint to be annoying."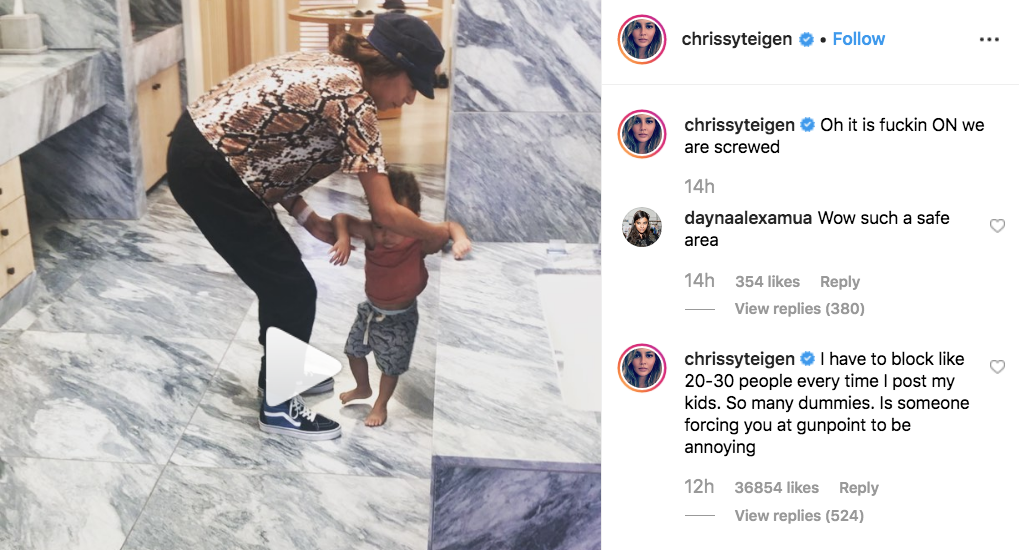 Once again, all hail Chrissy Teigen, queen of the mom-shaming clapback.
Editor's note: This post was updated to note that the woman in Chrissy Teigen's video could be her mother, Vilailuck.