You deserve these videos of Chrissy Teigen and Luna hanging out with a bunch of baby animals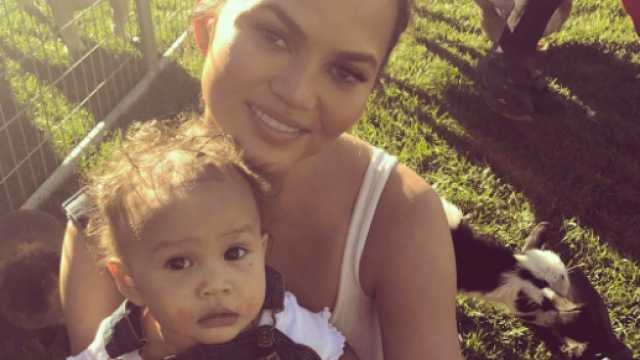 Just when we thought the Teigen-Legend clan couldn't get any cuter, bam (!), they just got even more stinkin' adorable with these precious Instagram snaps of Chrissy and Luna hanging out with some furry friends at the neighborhood petting zoo.
Documented on both Chrissy and John's Instagram accounts, the fun-filled day included baby goats, chickens, llamas, a giant turkey, and one lucky little piglet who got to snuggle up with the supermodel mama. And you can bet sweet baby Luna was a ~total~ natural with the animals. By the looks of it, she took a particular liking to a fuzzy-wuzzy brown bunny, softly petting him as her mama coached her on, saying "gentle."
Awwww.
We already knew Chrissy and John were total dog people — these are the folks who serenaded their pups, Puddy and Pippa, at their wedding — so it's no surprise that they're all-around animal lovers. And by the looks of these videos, Luna's a born animal fan as well!
The model and music legend are quite the hands-on parents with baby Luna, taking her everywhere from sushi outings to backstage at the Lip Sync set. They basically give us the new-parent feels 24/7, and we can't get enough of this adorable party of three.
Now go make your days about 100 times brighter, and watch these cute videos on repeat.