Chrissy Teigen looked beyond casual as she sat completely naked during a press day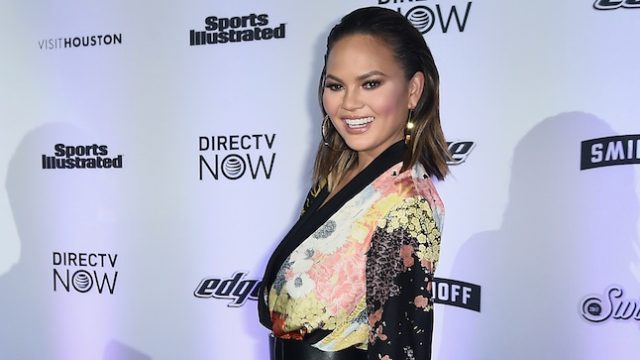 Chrissy Teigen has proven time and time again that she is the definition of chill. So we don't even know why we were surprised to see Teigen lounging nude during a press day for the Sports Illustrated Swimsuit Issue, looking as comfortable and casual as humanely possible.
Let us repeat that: Chrissy Teigen sat around completely naked while other, fully dressed humans milled around with cameras and microphones, and she genuinely looked casual AF. And we are BOWING DOWN. Because tbh, sometimes it's all we can do to sit comfortably in front of a camera wearing a parka, so we are entirely impressed with how hard Teigen is owning her body right now.
Okay, enough talk. Let's take a gander at this priceless photo.
In case you missed it, Teigen recently posed for the SI: Swimsuit Issue in her first bathing suit shoot since giving birth to baby Luna. Teigen fully admitted to having trepidation about bearing so much of her body after it had undergone its recent natural, post-baby changes, but in the end she said the experience was super positive.
"It's been awhile since I've done anything swimsuit. I haven't shot since baby. But of course you know that [the Swimsuit editor] MJ, and everyone at Sports Illustrated in general, is going to embrace your body no matter what's happening and embrace the changes, she had said in a behind-the-scenes clip about the day.
Teigen's self-love is giving us so much inspiration at the end of our work week. Thanks, lady! We needed this.