Chrissy Teigen keeps it real by admitting she gets jealous of other women's bodies
Our favorite celebrity showed up to a beauty convention and kept things 100. Yes, we're talking about Chrissy Teigen, who opened up at Beautycon Los Angeles. You're probably thinking what did she open up about — did she talk about her Becca Cosmetics face palette? Did she mention her oyster tweet? Did the author give us the scoop on her new cookbook?
While she *did* give Beatycon attendees (including HelloGiggles' beauty team, who attended the event) all of those deets, she also shared something a lot more important, and a lot more relatable.
Chrissy admitted that even ~she gets jealous~ about other people's bodies when she sees them on social media.
"I'm in a weird phase where I'm jealous of those bodies, but I also really want to be cool with my own body. I really want to be that person for you all, that says, "You don't need that fucking shit."
While this revelation made us gasp and cry at the same time (yes, that's possible), it's easy to understand where Chrissy is coming from — we've ALL been there. How many times have you scrolled through Instagram, only to feel depressed and not good enough afterward?
"My old ass will go on social media, and I will look at the Photoshopping, Facetuning, and the apps — and everything that goes into creating what is now a hit Instagram photo — and I feel insanely inadequate," Chrissy said.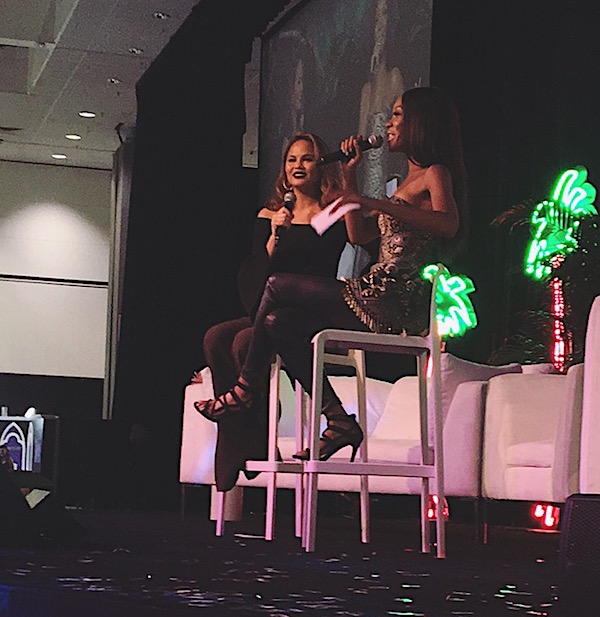 You know those times when you're online and you say to yourself, "I wish I had her body," or "If I just lost five pounds, I could look like that." Chrissy has been there, saying,
"There have been times I've cried to John, where I felt like I would just never have 'that' body. I've definitely been really upset with...you know, everyone has a butt now, everyone has curves, and a little waist, and that's not me."
While we can all understand where Chrissy is coming from, she did share words of encouragement about how she hopes social media can be a community where we all start posting our real bodies, our real stretch marks, and all of the things that make us real human beings.
"I've been on shoots, I've been naked-to-naked with people, and I will say that everyone has a stretch mark. Every time I see that other stretch mark, I'm like, "Girl, yes!" It makes me feel better, and if more of us did that kind of shit, how many people would feel better?"
We're right there with you, girl!
But, of course, Chrissy lightened the mood a bit by sharing more wisdom. When she's not on Instagram, Snapchat, or Twitter, she and John Legend take cooking classes together, she doesn't take off her makeup at night (another GASP), and she loves doing facials on herself and her husband when they travel. So there you have it, folks — celebs, they're just like us.