Chrissy Teigen just posted a pic of Baby Luna, and everything is beautiful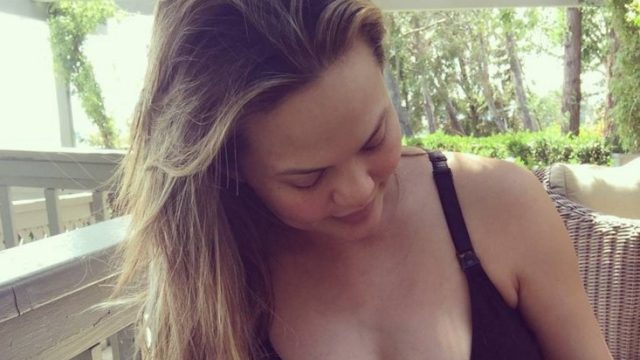 Two days ago, our foodie queen Chrissy Teigen announced the birth of her first baby, Luna Simone Stephens. Instagramming her weight (6 lbs, 11 oz! So teeny-tiny!), Chrissy also added, "She's here! Luna Simone Stephens, we are so in love with you! And sleepy. Very sleepy."
And today, Chrissy and her mom blessed our lives with the first two pics of mini Chrissy Baby Luna! Guys. She's so adorable. She has basically a full head of hair and probably already likes Taco Bell and basil chicken just like her mama.
Chrissy paired the IG with the adorbs caption, "hi my lulu!" Hearts = officially exploded into a tiny million pieces. Can we also note that Chrissy, who appears to not be wearing any makeup, looks FLAWLESS and GLOWING in that I Just Gave Birth To My Child kind of way?
Here's a pic that Chrissy's mom also uploaded. Let it be known that Chrissy's French bulldog Pippa does not care about ANYTHING.
For anyone who's wondering how the new mom is doing, Chrissy tweeted on Sunday, "to everyone who is asking, john is healing perfectly." Even shortly after giving birth, Chrissy is still making jokes on Twitter because she is the best.
All the congrats to you, Chrissy Teigen and John Legend! You two are already the raddest parents a tiny little girl could ask for.