Chrissy Teigen and John Legend's pizza party for baby Luna was as adorable as it sounds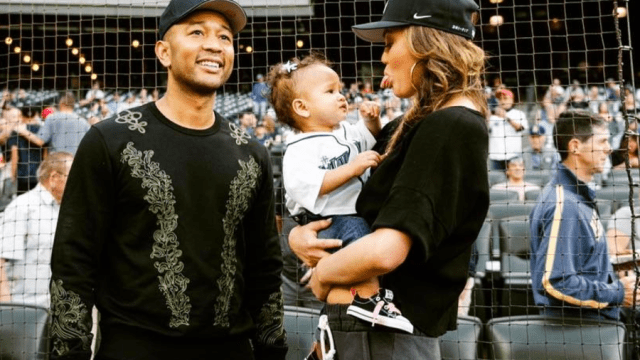 It's almost cliché at this point to call Chrissy Teigen and John Legend's relationship "goals." But honestly, it's just the truth. They're a favorite celeb couple because they're extremely relatable, and because they're hysterical on social media (particularly Chrissy). Baby Luna's arrival on the scene has only made their little family all the more adorable, and if you follow them on either of their accounts, you're lucky enough to get little glimpses into their super cute life. The latest family moment they shared was a pizza party for Baby Luna!
First up was a video on Chrissy's Instagram of her and Luna dancing around the table while Chrissy announced the pizza party. Luna looks like she's loving it, and so does Chrissy! John Legend is on tour right now supporting his latest record (which is excellent, by the way), and Chrissy and Luna are traveling with him on the road. They're taking advantage of the trip with lots of foodie stops. They were just in Chicago, so of course they had to have a pizza party. It just makes sense.
Baby Luna is obviously royalty already, which makes this portrait of her very throne-like.
It's Luna's first tour with the Legend family tribe, and she looks like she's taking to it with ease. Even a toddler can enjoy a great pizza party. Actually, a pizza party is the kind of thing a toddler is just about perfect at enjoying.
Luna even got to throw out the first pitch at a baseball game!
With parents as awesome as these, she's going to have a totally charmed life.
We're just happy for the Teigen-Legend tribe, especially after Chrissy bravely shared her story about battling postpartum depression. Any new mom deserves to feel okay, and it's great to see her (and Luna) having a great time on the road.