Chrissy Teigen and John Legend shared a video of Luna saying her first word, and we're melting with the cuteness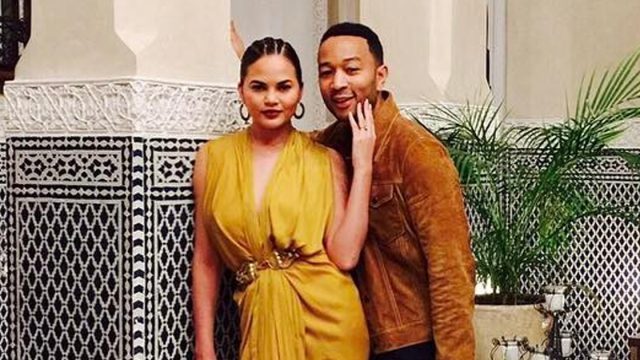 Guys, we might just have seen the cutest video of all time! Chrissy Teigen and John Legend shared Baby Luna talking for the first time, and omg we're actually melting with how intensely cute and adorable it is.
You might be aware by now that Chrissy Teigen, John Legend, and Baby Luna are perhaps one of the cutest families on the planet. We love seeing the adorable videos that the couple share of their daughter, whether it's her laughing at the word boo, crying on Santa's lap, or just hanging out with her parents, and we hope we'll get to see more as Luna gets older (SHE HAS ALREADY GROWN SO MUCH THO!).
Well, while holidaying in Morocco, it seems that Luna has had some incredible firsts, and we're not just talking about her inaugural trip to a souk.
Indeed, Chrissy shared some adorbs pictures of Luna on Snapchat on Instagram, one of which saw the 11-month-old wearing a cute bow for the first time.
Okay, this picture is just *too* cute. LOOK AT THOSE CHEEKS!
Not wanting to miss out on the action, John Legend also shared a selfie with Luna, where she's giving the camera some stealthy side-eye.
He also showed Luna tucking into some light vacation reading, too.
However, it was Chrissy's video of Luna that we can't stop awwing over.
The 31-year-old shared a video of her daughter spotting a cat. Chrissy can be heard egging Luna on to say the word cat. Finally, at the end of the video, she manages it!
Awwwwwww!
Chrissy also shared a picture of her and John hanging out in a Moroccan riad, and they look pretty darn glamorous.
We love seeing all the adorable pictures of the family, and we can't wait to see more from their vacation!