Chrissy Teigen and John Legend basically did a photoshoot with baby Luna to celebrate John's birthday and AWWW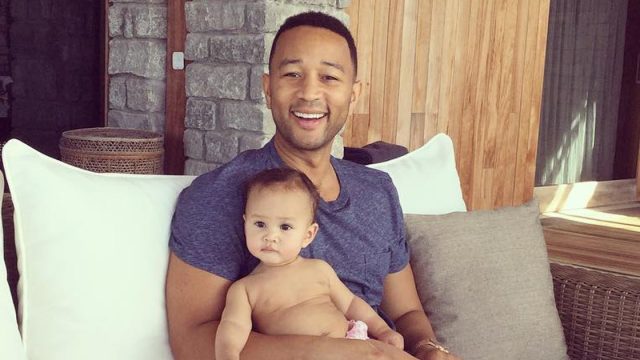 In the burst of cuteness that we needed, John Legend and Chrissy Teigen celebrated John's birthday with the cutest photoshoot with baby Luna.
We love seeing an insight into Chrissy, John, and Luna's lives. Not only are they the definition of #familygoals, but they also share the funniest and cutest pictures, too. For example, we loved this hilarious "family" holiday photo that Chrissy shared where something wasn't quite right, and found the pictures of Luna's first Christmas just too cute for words (even if Chrissy was preoccupied and rather busy with her Hatchimal).
Seriously though, aren't they just the cutest?
Well, because they just love sharing their photos with the world, Chrissy, John, and Luna basically did the cutest photoshoot to celebrate John's birthday and we can't stop going "Aww!"
Yesterday was John Legend's 38th birthday, and the happy family, who are currently on vacation, treated us to a few new gorgeous snaps.
Firstly, John shared a cute AF selfie with Luna, who looks so adorable.
He then obviously got Chrissy to take a more professional picture, and Luna looks so relaxed and chill.
Not wanting to miss out on the action, however, Chrissy shared her own picture with Luna wishing John a happy birthday.
"Happy birthday, beautiful papa."
Okay, we totally love that to celebrate a birthday the couple decided that they'd host their own impromptu photoshoot while on vacation. Not only is it ADORABLE, but it's so totally something that we'd do, too.
Of course, John and Chrissy also had their own grown ups celebration, and the couple shared a lovely selfie together for the occasion.
Serious #relationshipgoals right there.
Gosh, aren't they just all the sweetest!?