Chrissy Teigen Celebrated Her Sobriety by Sharing a Collection of "Bigly Happy" Family Photos
"I know that's weird but it's like...a different world for me."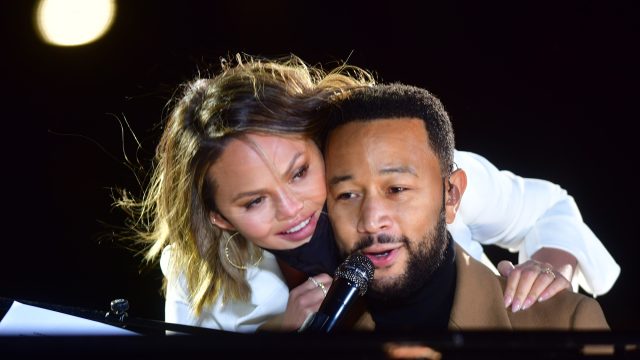 Chrissy Teigen is celebrating being almost two months sober in the best way: with her husband, John Legend, and their adorable kiddos, Luna and Miles, in Washington, D.C., for Inauguration Day.
In a tweet on Wednesday, January 20th, the mom of two shared a beautiful family picture at the top of the Lincoln Memorial overlooking the Reflecting Pool and Washington Monument. By the smile plastered across on her face, it's obvious how excited and hopeful Teigen is for the future, especially one where her 4-year-old daughter gets to grow up watching a Black female VP in the White House.
She wrote: "ran our asses up the stairs for this shot. just incredible to be here. sober. I know that's weird but it's like…a different world for me," continuing, "everything is new and better. very happy. the most happy bigly happy."
On social media, Teigen posted a string of photos of the fam visiting some of D.C.'s most notable landmarks. An Instagram post of Teigen and Legend's backs to the camera with their hands embraced and Luna and Miles on their shoulders captioned, "just an incredibly special day," and the same Twitter photo shared to Instagram with " I must have been gooooood in a past life."
Teigen revealed back in December 2020 she was four weeks sober, a life-altering decision she had made a month prior on her birthday.  
"I was done with making an ass of myself in front of people (I'm still embarrassed), tired of day drinking and feeling like shit by 6, not being able to sleep," she shared on her Instagram Stories.
While publicly announcing your sobriety to over 33 million people is certainly one way to hold yourself accountable, Teigen notes Holly Whitaker's book Quiet Like a Woman has played a steady role in her ongoing journey (and success) with sobriety. 
"I have been sober ever since and even if you can't see yourself doing it or just plain don't want to, it is still an incredible read."
Between her upcoming two-months-sober anniversary and being the only celebrity the official POTUS Twitter account, now run by Joe Biden's team, follows, 2021 is shaping up to be a great year for Teigen. She deserves it!
Emily is a NYC-based freelance entertainment and lifestyle writer — though, she'll never pass up the opportunity to talk about women's health and sports (she thrives during the Olympics).
Read more