Chrissy Teigen hilariously and honestly opens up about peeing after giving birth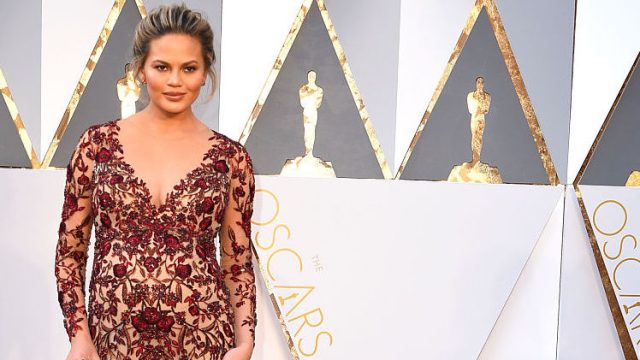 We can always count on Chrissy Teigen to keep it real, and we're happy to see that motherhood hasn't changed that. Today on Twitter she shared a very real tidbit about what her body is going after giving birth to Luna Simone Stephens last week.
Just in case you're not a mom or don't know anything about perineal irrigation, allow us to break it down for you. After a woman has given birth vaginally, it's recommended that she get a perineal irrigation bottle to squirt water on her vaginal area and clean herself when she goes to the bathroom.
Nancy Herta, M.D., an OBGYN at Michigan State University, told SELF, "If you have any kind of tear when you have a baby, it burns horribly when you urinate. As you urinate, you squirt warm water to dilute it so that it doesn't hurt as much." Women are given a perineal irrigation bottle at the hospital, which they often take home with them. 
New moms rely on these bottles because using toilet paper can be irritating and even painful down there after giving birth. The perineal irrigation device allows them to clean off with warm water, which can also loosen up the stitches, if a mama's got those as well. It's something that many mothers rely on, even if it's not talked about very much in Hollywood.  
Here's a shot of beautiful, perfect little Luna that John Legend recently posted. Even though Chrissy has to use a perineal irrigation every time she pees, it's probably worth it considering how adorable Luna is.
All this perineal irrigation stuff may sound weird and gross at first, but we're so glad Chrissy is being honest about these parts of pregnancy and giving birth. Because as amazing as motherhood is, there are parts of it that aren't very glamorous — and that's totally okay.
Never change, Mama Chrissy. Never, ever change.