Chrissy Teigen just gave the most hilarious apology for accidentally flashing us on the AMAs red carpet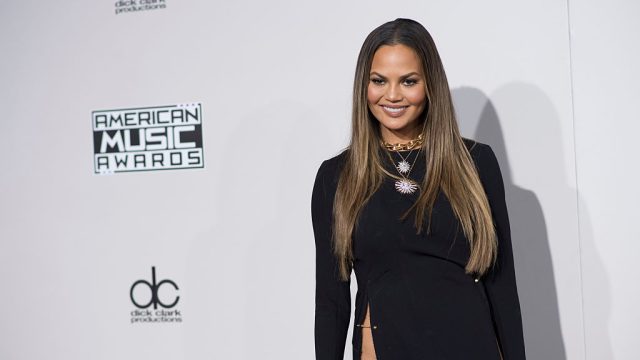 Typically, wardrobe malfunctions are one of the most embarrassing things to happen to a celeb in public. But instead of cringing and pretending like it never happened, Chrissy Teigen apologized for flashing her vag on the American Music Awards red carpet on Sunday and true to form, it was downright hilarious.
While Teigen's look was certainly one of the night's most stunning, it wasn't exactly the most stable. Appearing with her husband John Legend, the model wore a sexy, revealing black Yousef Akbar gown that featured a pair of super high slights that showed off her gorgeous legs — and unfortunately, a little more than she intended.
While posing, the wind blew the front panel of Teigen's garment, giving us a side-view of her, erm, bizness. Here she is, post-wardrobe snafu (use your imagination for the actual flashing photo) while wearing a more exaggerated version of her infamous Golden Globes cry face.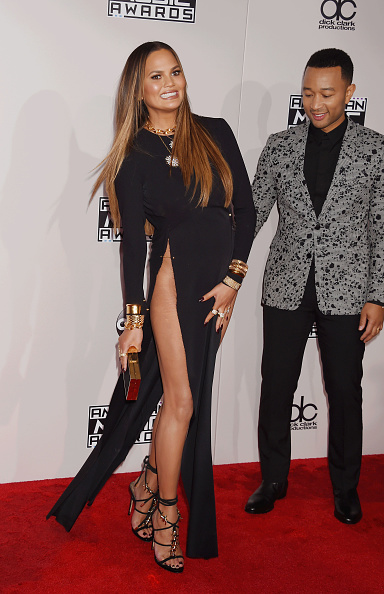 Way to recover, Chrissy! It's not like she hasn't posed nude before, but it's obviously different when it's not planned. We would probably be mortified, but Teigen took it in stride and used her humor to address the situation on Instagram:
"#AMAs! love you so so so much @jenatkinhair @1maryphillips@monicarosestyle @kimmiekyees(apologies to anyone harmed mentally or physically by my hooha)," she captioned the photo. "Dress is#yousefakbar and shoes are@dsquared2 and laser hair removal is@sevlaseraesthetics."
LOL. We seriously couldn't heart this woman any harder if we tried.
[tempo-video id="5221323132001″ account="4607804089001″]